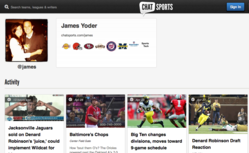 San Francisco, CA (PRWEB) April 30, 2013
Chat Sports, the fastest growing internet sports property, has launched user profile pages today. This exciting new feature provides users with the ability to have a personal archive of all the articles they've read on Chat Sports. Further, these user profile pages allow anyone to keep up with the sports news their friends are consuming by simply checking their friend's Chat Sports profile page.
"The launch of user profiles is the foundation for the next phase of consuming and sharing sports news," said James Yoder, CEO of Chat Sports, "Now that users have their own page, URL and user name, our future growth potential involves allowing sports fans to have a sports résumé of content that is important to them."
Since launching nearly seven months ago, Chat Sports has provided a comprehensive, social sports page focused strictly on stories and videos on teams that a user indicated they are a fan of. With the launch of user profile pages, Chat Sports continues to build a more user-focused product.
Chat Sports is curating over 8,000 pieces of content from over 2,500 sports websites each day to deliver each user a unique, personalized sports page.
About Chat Sports
In October 2012, Chat Sports exited beta and launch its next generation sports website that delivers sports fans a customized sports page based on their interests. Chat Sports curates up-to-the-minute content from local newspapers, national news sources and thousands of leading sports blogs all onto one website. By quickly delivering the very best and most relevant sports stories from thousands of potential sources, the website provides a customizable & comprehensive sports page to each user, saving them valuable time while making it simple to share content with friends and fellow fans. Get started at http://www.chatsports.com.
Press Contact:
Ryan Greenwald
ryan(at)chatsports(dot)com
415-545-8671