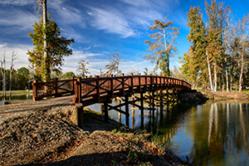 Thanks for all the Hard Work!!! The work ethic and workmanship of the YBC team has exceeded ALL expectations!!!
Bordelonville, LA (PRWEB) May 02, 2013
The Knight Ranch Bridge Construction Video
Just north of the Paragon Casino, where York Bridge Concepts™ (YBC) recently completed the Tunica-Biloxi Nature Trail bridges, another York Bridge™ has been created — a 115-foot timber pedestrian bridge that is specifically used for hunting, camping and entertaining guests or clients of the brother owners of Knight Oil Tools™. The brothers enjoy their recreational time at this 7000-acre property that is enveloped by dense woodlands and 40-acres of freshwater lakes. Here, the brothers maintain (and hunt) the deer and fish population. Added as part of the "second phase lake," along with the expansion of the stocked lakes, this York Bridge™ allows access to the large, seven-acre island.
YBC, the Premier Timber Bridge Company, created this structure following their Decero™ approach, from a blank slate — designed with inspiration in three areas: aesthetics, functionality and capacity. The foundation for the look and feel of the bridge started with the clients' preferences when viewing YBC's online portfolio. Functionality was also taken into consideration in order to allow boat traffic to easily travel under this timber bridge. Capacity was an integral element of this bridge's design which will be required to hold construction equipment, allowing for development on the island. Additionally, the crossing of golf carts, four-wheelers and utility vehicles was taken into consideration. As a result, York Bridge™ designed a one-of-a-kind, pile-supported, arching bridge structure with a capacity of eight ton gross vehicular weight — built from the deck, to avoid harming the surrounding environment. "We strive to create exclusive and architecturally-appealing bridges for every one of our clients who choose to partner with our team at YBC," stated James M. York, President of YBC.
Every York Bridge™ includes York Bridge Services™ after the bridge construction phase is completed and its sub sequential seasoning, for several months. When YBC crews return and remobilize, the bridge is inspected and initial maintenance is performed. After the maintenance is complete, YBC applies the proper protection to the surrounding environment which is an important part of YBC's process. Then, the structure is prepared for the professional application of the chosen York Timber Protective Systems™. Finally, our teams achieve a thorough cleanup of the site and sign-off from the client.
During this project, YBC installed temporary cantilevered bracing to the bridge, just above the water, which supported a visqueen barrier that was used to catch any drips or overspray. The bridge was then prepped by a washing and cleaning process to ensure the coating's adherence to the bridge. YBC's ultra violet-resistant, oil-based sealant and textured polymer (deck) coating (TPC) were applied to the bridge: The redwood and walnut-colored sealants, as well as the lodge brown-colored TPC decking coating were specially chosen to complement each other and the overall architecture of the bridge. "Many wooden bridges are built with no protection from the elements — our York Timber Protective Systems™ allow us to provide Landmark Timber Bridges that will last for generations," states Mr. York.
York Bridge Concepts™ takes pride in meeting all design guidelines and construction challenges while offering innovative solutions to each client, providing them with an enjoyable experience and their own one-of-a-kind York timber bridge: "I was astounded by how much three men can do: YBC did a phenomenal job and they are extremely professional. They worked together very well and their personalities clicked. Anytime I had questions they had answers and were very helpful. I really like the way YBC does business and I'm glad that I hired really good workers — their teamwork was unbelievable. I have actually implemented some of their systems with my own crews now… having them send back daily pictures for reviews, etc.," stated Russ Manuel, Property Manager, Knight Oil Tools.
About York Bridge Concepts™
York Bridge Concepts™ (YBC) is the nation's largest on-site timber vehicular bridge builder. YBC works with industry-leading owners and developers on prestigious projects throughout the U.S. and Internationally, creating more than just a solution for crossing lakes, streams, creeks, wetlands or ravines. In this competitive real estate market, developers who want to ensure that their project stands apart from the competition use York Bridges to add value and create a feeling of exclusivity, warmth, and quality for their customers. Based in Lutz, Florida, with 28 years of experience, YBC has become well-known for their expertise and cutting-edge innovation in timber bridge design and on-site construction.