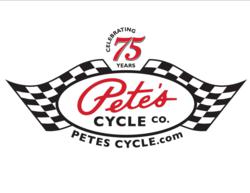 John Leach "Get Out And RIDE!!!"
Baltimore, MD (PRWEB) May 01, 2013
Pete's Cycle was founded by Walter C. Leach Sr., nickname Pete, hence the name Pete's Cycle, in 1938 out of his parent's basement on Harford Road in Baltimore. He started out repairing bicycles and building flower boxes. Remember this was during the depression.
Pete went off to WWII, while away his father ran the business. After WWII, Pete became a Schwinn bicycle dealer and at this time started into motorized vehicles. First was the Whizzer then Indian motorcycles, AJS, BSA, Matchless, all at the original store. He opened a second store in Towson in the 1950's which also sold Evinrude outboard engines and had a hobby store. In the late 1950's he sold Maruchan, Laverda, Lambretta, Bultaco, Vespa, Gillera, American Eagle and Cushman. He became a Honda dealer on July 9, 1963.
He opened the Bel Air store in 1967 and the Severna Park store in 1970. At one time, Pete's Cycle had 7 stores with either bicycles or motorcycles. Thru the 70's and 80's he picked up Yamaha, Kawasaki and Suzuki.
In the mid 1980's, Pete went into semi-retirement. His children started running the business on a full time basis. In April of 2000, Pete's Cycle moved out of it's original location of 62 years, to a much larger store on Bel Air Road in Baltimore. Today, Pete's Cycle has 3 locations still run by his 5 children. We are very proud to be celebrating our 75th year.
Pete's has a full stock of many brands that include Honda, Yahmaha, Kawasaki, Kymco, Polaris, Sea-Doo, Susuki, Triumph, Spyder & Victory. Many of Pete's Brands carry ATV's, UTV's, Cruisers, Dirt, Street, Scooters, Generators & PWC's.
They just launched a brand new website http://www.petescycle.com
They have three locations Pete's Motor Sports 7511 Belair Road Baltimore, MD 21236 Phone: 410-663-8556 Pete's Cycle is located just inside the northern part of the Baltimore beltway (US 695). Beltway Exit 32A, Belair Road We're 1/3 miles south on Belair Road, on the left.
Pete's Cycle Company, Inc. 344 Belair Road Bel Air, MD 21014 Phone: 410-879-3586 Pete's Cycle is located just a short distance off of the JFK Memorial Highway (US 95), Exit 77B (MD-24 to Bel Air), Right onto MD-24, Right onto Bel Air Road We're 1/3 miles down the road.
Pete's Cycle Company, Inc. 800 Ritchie Hwy. Severna Park, Md. 21146 Phone: 410-647-5880 Pete's Cycle is located south of the Baltimore Beltway (US 695), Exit 4 I-97 S, Paul T. Pitcher Memorial Highway (MD-100), Bear left onto Arundel Expressway (MD-10), Left ont Ritchie Highway (MD-2) We're just under 4 miles down the road.
Pete's Cycle will also be at the Timonium Motorcycle Show on Feb 8th, 9th and 10th, should be a great show.
You can check out Pete's on Facebook, Twitter, Youtube, Blogger, or http://www.petescycle.com.
Distributed by http://www.Daasn.com