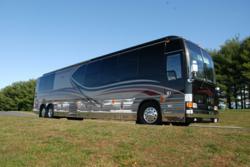 Warrenton, VA (PRWEB) May 29, 2013
Founded in 2002 Country Coach provides travel in style and comfort for its clients. Country Coach is the preferred choice for corporate events, sports events, concerts, birthday and anniversary celebrations, a night out on the town with colleagues or friends, proms, weddings, funerals, wine country day trips, and more. Country Coach serves clients in the Washington, DC Metro Area and throughout the Mid-Atlantic Region.
Mark Monroe, owner/operator of Country Coach, has provided limousine and upscale coach transportation to rock and roll legends, movie stars, political dignitaries, news executives, and corporate leaders for almost 40 years. In January 2013 Country Coach served as a command post for the Secret Service during President Obama's inauguration.
Monroe takes great pride in Country Coach's commitment to customer satisfaction and customer safety—as well as an unmatched attention to detail. He has an accident-free driving record. Trained as an EMT, Monroe is an active volunteer with the Warrenton, Virginia Rescue Squad and Fire Department. He is one of only a few motor coach owner/operators with an on-board automatic electronic defibrillator (AED) in the event of an emergency.
The new black Prevost XL Entertainer Executive Day Coach offers an upscale contemporary interior enhanced with gray leather furniture and chrome. It includes:

Full kitchen
Full bathroom
Multiple flat screen TVs with DirecTV
Stereo speakers throughout
Variety of seating arrangements
Sleeping area
The generator enables the coach to be used as a hospitality suite for all-day events. Rates are comparable to a limousine service but offer clients more comfort components and the convenience of traveling together as a group.
Liz Casazza, president of Mountain View Marketing, recently toured the new Prevost XL. "It is luxurious and offers a very relaxing atmosphere. I look forward to booking Country Coach's new coach for my next corporate event," she shared.