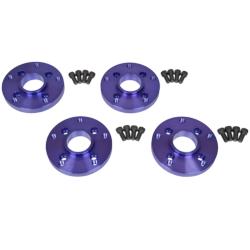 (PRWEB) May 17, 2013
UPDATE: Adapters are now anodized black instead of purple.
Raceland's new Volkswagen 4x100 to 5x130 wheel adapters allow VW owners the ability to run Porsche fitment wheels such as their popular phone dial rims and other aftermarket Porsche wheels.
The adapters bolt to the hub of the car via the use of the included allen head bolts (stock torque specs are recommended). After the adapter is bolted to the hub, the 5x130 Porsche wheel can be bolted to the adapter just as it would the stock hub.
These 4x100 to 5x130 adapters are made from high-quality hardened aluminum and have been anodized for appearance and corrosion resistance. Also, each spacer is 20mm to compensate for the differing offset of the Porsche fitment wheels and are hub centric to ensure proper wheel seating.
About Raceland:
Raceland USA was founded in 2009 with the objective to provide car enthusiasts performance parts at an affordable price by selling direct. What that means is you are buying quality products at or below distributor pricing.