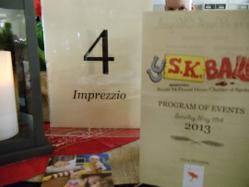 Spokane, WA (PRWEB) May 22, 2013
"We're proud to help the families staying at our local Ronald McDonald House," says Imprezzio Marketing Director Rick McNeely, who attended the event with his wife. "To see the good work that the people at RMH are doing is inspirational."
On Saturday night, Imprezzio employees enjoyed a barbeque buffet and chocolate fountain courtesy of Black Tie Catering, line-dancing lessons from the staff of the Roadhouse Bar & Grille, and mechanical bull riding provided by Larry Miller Lexus of Spokane. The event also featured a silent auction to raise money for the charity.
RMH personnel told deeply moving stories of children who had spent as long as eight years at the House before losing their battles with cancer. Others, from as far away as small-town Montana, shuttle back and forth to Spokane for treatment--two weeks on, two weeks off--for nine months at a time. Some parents, they said, arrive at the House with not so much as a toothbrush, having found out only a few hours before that their son or daughter has been LifeFlighted to Spokane.
In fact, according to the RMH website, over 60% of the families which stay at Ronald McDonald House Charities had no idea even 24 hours prior to arriving that they would need its services.
When children are sick, Ronald McDonald House gives them what they need most--their Moms and Dads, brothers and sisters--by providing a "home-away-from-home" for them, some prepared meals, and a consistent, caring environment so the families can focus on getting their kids well.
"I can't even imagine how stressful it would be to have a child so gravely ill," says Holly Doering, a technical writer with Imprezzio, who also attended the event. "I am fortunate to work for a very caring company which is committed to giving back to our communities.
"And although many of our employees are young people, or childless couples like myself and my husband, I think it's safe to say that we all have a soft spot for children in crisis. Through our local Tweetup, (#SpoCT on Twitter), we recently participated in high school student Jesse Sheldon's Diaper Drive for Inland NW Baby, and contributed to a fund to bring home a Spokane exchange student who had fallen critically ill in Germany. Imprezzio is also proud to contribute to The March of Times and Toys For Tots.
"Our subsidiary Imprezzio Global, participates in Operation Shoebox to give presents to Romanian children at Christmas, as well as the Cycling Santas.
"They are all worthy causes, but the stories of the children from the RMH touched our hearts. I looked around and almost everyone had tears in their eyes. And not just from watching me try to line-dance."
About Imprezzio