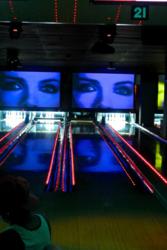 The wedding is over, but the bridal party wants to keep on dancing. Time to trade the satin shoes in for a pair of bowlers and head to Frames Bowling Lounge in NYC.
NEW YORK, NY (PRWEB) May 21, 2013
As June approaches, Brides are wondering what to do with their bridal party once the wedding is over. In order to keep out of town friends busy drinking and partying way into the night might take a night of Bowling.
The wedding may be over, but the bridal party wants to keep on dancing. Time to trade the satin shoes in for a pair of bowlers at Frames Bowling Lounge, located at the corner of 40th street and Ninth Ave in midtown. The carefree sport of bowling meets sophistication in an upscale venue that features laneside cocktail service, a cozy billiards lounge and a flavorful, diverse menu.
Frames has recently gotten numerous requests for bridal parties and their out of town friends to kick back in a low key, relaxed atmosphere.
They've also recently had a slew of marriage proposals on the lanes, but that's a whole different story.
ABOUT FRAMES BOWLING LOUNGE:
For two years and counting, Frames Bowling Lounge has brought modern sophistication to the age-old, carefree sport of bowling. Located on the corner of 9th Ave and 40th Street, Frames is much more than just a bowling alley. The 35,000 square foot entertainment complex boasts 28 bowling lanes, a private VIP room, two bars carrying an extensive liquor selection, a full-service billiards lounge, game room housing 25 interactive games, and a plush dance lounge.
Executive Chef Miguel Rosado, who worked at the most illustrious kitchens in New York, including the uber-exclusive Core Club, Dovetail, and Cafe Boulud, prepares beautifully plated, note-worthy dishes that appeal to every pallet. An extensive cocktail menu, beverage packages and beer towers are all available to insure a customized holiday event. The popular bowling venue has received critical acclaim from the Wall Street Journal, New York Times, Time Out NY and CRAINS, and hosts many VIP clients, including Alec Baldwin, Nick Jonas, Jason Wu, Debra Messing, Beyonce and Jay-Z.
Frames Bowling Lounge is located at 550 9th Ave, NYC, and is open seven days a week, Monday-Wednesday 12pm-12am, Thursday-Friday 12pm-3am, Saturday 11am-3am, and Sunday 11am-11pm. To further inquire about the venue, contact Frames Bowling Lounge: (212) 268-6909.
###