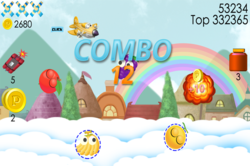 "Lightening Hands" is simple to play, cute approach that can be enjoyable to everyone without stress.
(PRWEB) May 06, 2013
ARAARIA Studio, the maker of Number Study and Smart Meditation on the iTunes app store, introduces a new healthy brain game, Lightning Hands. This game, suited for people of all ages and genders, stimulates brain activity and compels faster judgment.
Lightning Hands is a simple game that encourages players to remove the continuously appearing fruits. The evil Melon of Aria has spread virus infected fruits across the Kingdom of Ari, infecting its citizens with laughter. With rapid hand gestures, the gamer's job is to clear all contaminated fruits and bring peace back to the Kingdom of Ari.
With a simple format and colorful design, this game is always fun and ensures no stress at all. Another advantage of playing this game is that it requires fast finger movement, which in turn, stimulates rapid brain activity.
Other icons will appear throughout the game, each with a different meaning. If the player sees a blue or red potion, all fruits will be cleared instantly. A green potion will provide a bonus score, while a wad of bank bills awards the player a bonus coin. If the airplane appears during the game, nonstop touching will heighten the player's score as well.
Players can use their coins to purchase different items including a bomb item, which prevents a game over when touched; a clear item, which clears all fruits; or a double coin item, which requires 4000 coins to purchase, but doubles the amount of coins earned.
ARAARIA Studio, which aims for 'healthy content, interesting fun and delightful design,' is currently working on more player modes.
For more information, visit http://www.araariastudio.com or visit iTunes to purchase Lightning Hands for $0.99.
About ARAARIA Studio
Established in 2012, ARAARIA Studio is the maker of the education app Number Study, which strengthens basic mathematical abilities, and the health and fitness app Smart Meditation, an app designed to enhance positivity and clear emotion. The company has recently added Lightning Hands to its education and health games repertoire.