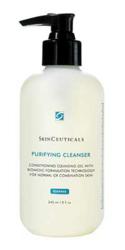 Laura Smith, Esthetician at SkinBeautyMall.com, said, "With Biomedic SkinCeuticals Purifying Cleanser the skin becomes detoxified and thoroughly cleansed
Anaheim, California (PRWEB) May 08, 2013
SkinBeautyMall.com is a highly regarded web-based retailer of quality skin care products. The huge e-commerce company focuses on bringing scientifically proven, anti-aging discoveries to its customers via their premium skincare lines. They have now added Biomedic SkinCeuticals Purifying Cleanser to their large collection of product offerings.
This biomedic purifying cleanser is correct for most skin types, from combination to normal to oily complexions. Its main goal is to get rid of impurities and leave the skin feeling conditioned and renewed. The Biomedic Skinceuticals Purifying Cleanser also works as an exfoliant, revealing newer, softer and more radiant skin in its wake.
One of the key ingredients behind the exfoliant effects of this biomedic purifying cleanser is the glycolic acid it contains. This is a gentle exfoliating agent that will make the skin tone glow and improve its texture.
The Biomedic SkinCeuticals Purifying Cleanser is a lightweight gel having a pH very much the same as skin itself does. This allows the gel to completely cleanse the skin without disrupting the skin's own moisture protection barrier. It is a perfect solution for aging skin and those with acne conditions. Aging skin, with its wrinkles, lines, blotchy pigment, sagging, and dullness is reconditioned with Biomedic SkinCeuticals Purifying Cleanser. New younger skin is revealed with its gentle exfoliation, and dirt and impurities are released. The newly cleansed skin allows for clogged pores to release excel oils, and redness is reduced, in addition to blackheads, whiteheads and other blemishes.
The glycerin in this cleanser allows the skin to be softened and smoothed. It can be used twice daily, with just a small amount needing to be massaged onto wet skin.
Laura Smith, Esthetician at SkinBeautyMall.com, said, "With Biomedic SkinCeuticals Purifying Cleanser the skin becomes detoxified and thoroughly cleansed. The exfoliating properties allow for the skin to be rejuvenated without drying it out. This is one of SkinBeautyMall.com's best additions to its line of skin cleansing products."
About SkinBeautyMall.com:
The SkinBeautyMall.com skin care and makeup company is both doctor-owned and doctor-operated. The company finds and utilizes the latest science-based technology and proven ingredients; they then choose only those most effective anti-aging ingredients that are used in their products for sale. SkinBeautyMall.com offers a two-week money-back guarantee and also offers a 120% price protection guarantee. Free samples and free esthetician consultations are also offered.