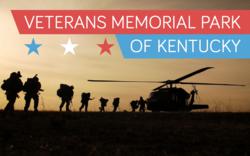 A memorial of this scale is meant to recognize and honor veterans not just from the region but across the nation. We are proud to honor all who have served.
Louisville, KY (PRWEB) May 07, 2013
Board members of the Veterans Memorial Park of Kentucky have been collaborating with local professionals to design a memorial park to honor our nation's veterans. With donated materials, services and time from the community, the park board has created a unique park design that will take visitors on a journey through 300 years of military history. This segmented walkway will be the first installment to the Memorial Park and will serve as a visual indicator of major US military engagements since 1776.
A memorial of this scale is meant to honor veterans both from the region and across the nation. The mission of the Park is two-fold – to recognize those who served their country, especially those who paid the ultimate price in their service, and to educate the community, visitors, and especially the youth in military history. This joint mission will make the project one of the most unique parks for veterans in the United States.
Property for the park, valued at over $300,000, was donated to the board and will be constructed along the Veterans Memorial Parkway in Crestwood, Kentucky. Support for this project has been tremendous from individuals with backgrounds in architecture, arborculture, construction and engineering, all lending a hand to make this dream a reality. In addition to the community support for the project, Dakota Meyer, former Marine and Les Beavers, Executive Director of National Association of State Directors of Veterans Affairs, have written letters detailing full support.
###
Neighbor.ly is the civic crowdfunding platform. Neighbor.ly provides a unique opportunity for local governments, civic organizations, and civic ventures to obtain funding for civic-natured projects. Neighbor.ly's mission is to help cities save tax money while greenlighting projects. And let citizens, companies and institutions invest in the places and civic projects they care about.