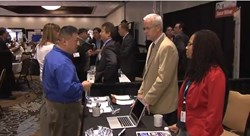 There is a new awareness of how important manufacturing is to the state of California. I encourage manufacturers' to hang in there, because things are looking up
Ontario, CA (PRWEB) May 13, 2013
The Summit event offered breakout sessions, keynote addresses, and an opportunity for manufacturers' to showcase their products using the "Made in America" theme. Breakout sessions were offered to address a cross section of manufacturing issues. Breakout topics included: Innovative Approaches to Facilities and Energy; Workforce Innovation through Collaboration; AB32 and the Environment; New Business Through Innovation; and Banking and Finance – Planning for Innovation. Each session was led by a panel of industry experts who delivered success based strategies for focused business growth in 2013.
Keynote speakers Robert C. Fry, Senior Economist with DuPont; and Dorothy Rothrock, Senior Vice President with the Calfornia Manufacturing and Technology Association each gave manufacturers' a broad range of information including perspectives from global awareness, to grass roots approaches. Dorothy Rothrock stressed that manufacturers' need to reach out to their legislators directly. Suggestions were made for extending facility or plant visits, placing phone calls, or emailing to make connections. She further recommended those manufacturers' join organizations like the MCIE to strengthen their collective voice. "There is a new awareness of how important manufacturing is to the state of California. I encourage manufacturers' to hang in there, because things are looking up".
With varying approaches to rebounding manufacturing in the region, one key area of discussion always surrounds the regulatory environment in California. Senator Richard Roth - 31st Senate District (D-Riverside), was in attendance and spoke about maintaining an efficient and effective regulatory system in California. "The regulatory environment is important to the success of manufacturing in California. Regulations need to accomplish objectives to move companies along or we need to eliminate them completely. Manufacturing is the backbone of the state."
MCIE Summit 2013 Event Chair Wallace Brithinee noted that the event was just what was needed to jumpstart the new year with an added push for the manufacturing sector. "This attendance tells me that manufacturers' are looking for support in many ways. I'm glad to see this large attendance, and hope that all follow-up with what has been offered from our experts and keynote speakers."
The MCIE awarded standout companies with its E=MC2 awards. Award winners were selected for business innovation in the areas of Resource Efficiency, Marketing Effectiveness, and Workforce Management. Business winners included California Steel Industries-Workforce Management; Ventura Foods - Marketing Effectiveness; Brithinee Electric – Marketing Effectiveness (tie); and Arrowhead Brand Mountain Spring Water – Resource Efficiency.
The Manufacturers' Council of the Inland Empire was formed in 2005 as an innovative resource for manufacturers' in the Inland Region of Southern California. The Council has grown into a unique collaborative between industry, government, and higher education focusing on training and economic competitiveness for manufacturers' in the area.
The Summit sponsors played a key role with the success of this event. Those sponsors were: California Manufacturing and Technology Consultants (CMTC), Chaffey College, San Bernardino Community College District, San Bernardino County Workforce Development, California Steel Industries, Southern California Gas Company, Ventura Foods, San Bernardino Employment Training Agency, San Bernardino Valley Enterprise Zone, and the Manufacturers' Council of the Inland Empire.
The Manufacturers' Council of the Inland Empire Summit planning is underway for next year, and is tentatively planned for the first quarter of 2014. Please stay in touch with the MCIE through its' website at http://www.mfgsummit.com