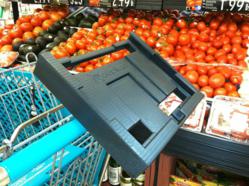 My shopping list, my coupons, and my trip to the store is always organized!
Saratoga Springs, NY (PRWEB) May 22, 2013
A group of three entrepreneurs in Upstate New York have introduced their first product KoupKart, a framed device holder that accompanies shoppers on their trip to the supermarket. The holder, comprised of heavy duty, durable plastic, clips to the handles of any size shopping cart so consumers can slide in any smart phone or handheld device including iPads, Nooks, and Kindles.
KoupKart is intended to aid shoppers in using device applications to quickly search for coupons, nutrition information, and locations of groceries in supermarkets. Additionally, it will allow consumers to utilize their devices to store and display shopping lists as well as act as a video screen to entertain children who are accompanied on the trip to the supermarket. The holder is unique from other similar products on the market because KoupKart is a multi-use holder that can accommodate many different size devices without any adjustments.
Nine months ago, KoupKart LLC, formed by Charles Bauer, Matt Carruthers and Rob Peck, partnered to patent the KoupKart product, then immediately began working on the prototype which has since been completely developed and is fully functional. Bauer, Carruthers and Peck plan to launch KoupKart on Monday, May 30th on kickstarter.com, a crowd funding web site full of new projects.
KoupKart LLC has introduced the product on its web site, http://www.koupkart.com, and will retail for $39.99. However, you can go to kickstarter.com and pledge $29 between May 30th - June 28th to receive your very own Koupkart. By September 2013, it will be made available for purchase on the koupkart.com web site. The site currently contains illustrations of the product and has a demonstration video as well.
Bauer, Carruthers and Peck all come from diverse backgrounds. Bauer is a legal research solutions specialist at LexisNexis and was previously a loan specialist in the mortgage industry for 12 years following five years of professional baseball. He is credited with the concept after a late night shopping at a supermarket when he was feverishly searching for medication for his young daughter and could not locate the medicine nor compare other medications to the one he was searching for. However, it wasn't until he partnered with Carruthers to build on the idea of KoupKart due to the failure of the GPS Shopping Cart. Carruthers worked several years for his father's contracting business ,then moved into a position in customer service for LexisNexis before being promoted to Account Manager within the organization. Peck is a small business owner and enthusiastic entrepreneur with a vast array of experience in sourcing and product creation.
"The Koupkart is going to revolutionize the way we shop forever," said Bauer. "The Koupkart is an ideal opportunity for consumers to create a more efficient, enjoyable shopping trip to any supermarket, and if needed, entertain children during the shopping experience."