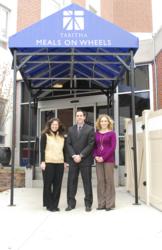 Lincoln, NE (PRWEB) May 24, 2013
For the second consecutive year, Tabitha teamed up with Runza® Restaurants and Braeda Fresh Express Café to treat Tabitha Meals on Wheels clients to a special restaurant meal, delivered right to their door. More than 400 meal recipients recently enjoyed a Runza Sandwich and fresh-baked cookie provided by the restaurants, along with the rest of a well-balanced, nutritious meal provided by Tabitha.
"Runza Restaurants is proud to partner with the Tabitha Meals on Wheels team," said Renee Sjulin, vice president of Runza National. "Community involvement and support is one of Runza's core values, and we are heartened by the opportunity to make a difference in the hundreds of lives that are impacted by this vital program."
Many of the clients served by Tabitha Meals on Wheels, in operation 365 days per year, are unable to leave their homes. More than 70 percent cannot afford the full $5.75 cost of a meal. Volunteer drivers deliver not only a meal but provide an invaluable safety check for individuals who many see no one else throughout the day. Tabitha was the first and today is the only organization in Lincoln to deliver meals to anyone in need, regardless of their financial resources.
As a nonprofit organization serving 28 Nebraska counties, Tabitha's love embraces a society where everyone is valued and empowered to live life to the fullest, with compassionate at-home support, innovative living communities, exceptional rehabilitation, health care and hospice services. For answers to all your aging questions, tune in to Tabitha's Answers on Aging, airing each Saturday morning, 9:30 a.m. on KFOR 1240 AM, or subscribe to Tabitha's quarterly magazine, The Answer, at http://www.Tabitha.org.