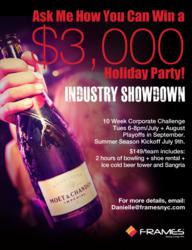 The Bowling Lounge is known for entertaining local businesses from Media, Technology and Fashion Companies, to Publishing Houses, Law Firms, Medical Staffers and Designers, including employees from Louis Vuitton, NYU and Barclays Bank.
New York, NY (PRWEB) May 13, 2013
Frames Bowling Lounge has recently been attracting corporate leagues from industries ranging from Oprah and Cosmopolitan Magazine to retailers like Tommy Hilfiger, Louis Vuitton and Ralph Lauren. The reason these companies love hosting bowling events after work? The ease of built-in entertainment, gourmet service and opportunities for co-workers to bond.
The Bowling Lounge in Midtown has become the perfect after work attraction for companies seeking to host networking events in a relaxed atmosphere where coworkers can connect with each other after 5pm. They provide a unique blend of interactive entertainment, on-staff event planners and flawless laneside service.
This summer, Frames announces the details of its Summer Corporate Challenge. Companies can invite as many employees as they'd like to compete weekly, or have rotating teams from different offices compete on behalf of the company. Each team can play at a rate of $149 per night, for an 8 week commitment from July 9th though September 10th. Best scoring teams will enjoy free Playoff games sponsored by Frames in September, with the winning team scoring a $3,000 Open Bar Company Holiday Party fully paid for by Frames. Early sign-ups are encouraged, as only a limited number of lanes are available per company.
Frames Bowling Lounge is known for entertaining businesses all over the city, with avid fans in every industry. From Banking to Bridal, companies are signing up staff members for the Bowling Showdown this summer. Corporations realize that healthy competition is good for their employees!!
Frames is located at 550 9th Avenue in midtown. The chic space boasts 30,000 sq. feet, and can host parties for 7 to 700 guests. The Bowling and Billiards Lounge features 28 sleek lanes including a Private VIP room, 2 full service bars complete with HDTVs, and a cozy Billiards room. They are open 7 days a week, with operating hours on their website.