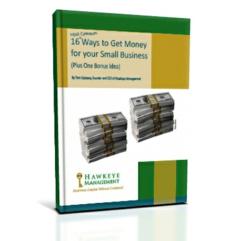 find the best options for small business funding
Blackwood, NJ (PRWEB) May 03, 2013
Hawkeye Management has released a new eBook. The free electronic book describes the 16 Most Common Ways that small business owners seek working capital for a dream business. This is a great read for small business owners looking for small business loans. The report goes into detail about ways to acquire funding for small business such as venture capital, unsecured business lines of credit, and more. Furthermore, the eBook details that business owners make many mistakes in borrowing money — business owners pay too much in interest, don't get the best terms, get the wrong type of loan, hurt the individuals personal credit, or fail to take advantage of the tax breaks small business owners should get as a business borrower. These mistakes happen mostly because entrepreneurs are experts, but not in the world of credit and lending. Small business owners don't know all the options -- all the different ways to obtain funding.
Tom Gazaway, the author and founder of Hawkeye Management, further explains that the financing solutions herein probably make up 90% of all capital that is obtained by small business owners. Tom continues to explain, giving up an equity stake in a business means ownership of the business is reduced, as the business grows and becomes more successful, investors will share in those profits. Once you take on equity investors, it also means the pressure builds for an "exit" event that would pay off those investors -- usually a sale of the business, public offering, or possibly a healthy dividend or distribution of profits.
To read more or get a free copy of the 16 Most Common Ways to Get Money for your Small Business Click here.
Hawkeye Management connects entrepreneurs and small business owners with up to $50,000-$150,000 or more in freely spendable business credit lines. Hawkeye Management understands the mechanics and realities of small business credit better than anyone. Hawkeye Management knows what works, what doesn't work, and how small businesses can get the credit it needs as quickly as possible.