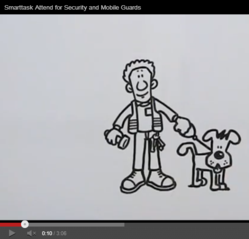 "It's interesting how many security businesses have contacted us already having seen the cartoon."
(PRWEB UK) 2 May 2013
The informative clip takes viewers through the benefits of the solution for manned guard services via a cartoon doodle.
This helps to create a clear and easy to understand explanation of SmartTask Attend and how it can help security companies enhance their business.
Paul Ridden, managing director of Skillweb, stated: "Based on comment from the market they need a simple to use product. Having spent time in the field with security guards, we have a good insight into their requirements. We consulted with several of our clients in security who suggested a cartoon showing a day in the life of a security guard might be a good way to communicate the Skillweb message.
"The SmartTask cartoon doodle video is an easy way to demonstrate the flexibility and ease of use of the product and its features. The video is already receiving considerable viewings on our site and on YouTube. It's interesting how many security businesses have contacted us already having seen the cartoon."
How does SmartTask Attend work?
SmartTask Attend for Security and Mobile Guarding is a proof of attendance solution that sends up-to-the-second data to businesses about the whereabouts of security staff, their rounds and locations visited.
Using mobile phone technology and NFC tags, the solution enables guards to access risk assessments and site specific data at the point of scan. Guards swipe their mobile phones over a tag/label unique to a site to access information, enhancing lone worker protection.
Accountability of security firms is also assured through the new Customer Portal, which enables end users to see when a guard attends their site and what actions have been taken.
This reduces the time spent by security firms dealing with the administrative task of compiling data about the activities of guards to present to customers.
Proven Success
Risk is just one company already using SmartTask Attend for Security and Mobile Guarding, after being won over during a trial.
The company needed a more reliable and technically efficient solution to manage workers and Skillweb demonstrated that SmartTask has the flexibility needed to track and log attendance, reporting in real time.
Tiras Turner, control centre manager at Risk Management, stated: "The technology is dependable and robust, negating the need for excessive amounts of paperwork to be held by patrol officers and limiting the need for constant unnecessary interaction between the attending officer and the control staff thereby reducing mistakes and response times."
Incentive Lynx Security has also chosen to join the Skillweb team to enhance its visibility, control and lone worker protection.
SmartTask Attend will now be installed on the smartphones of the 23-strong security team, enabling workers to register their presence at 120 unique ID tagged locations.
Rajeev Pradhan, operations director at Incentive Lynx, commented: "SmartTask Attend Security will enable us to achieve effective employee monitoring that not only delivers added value to our customers but also provides protection for our operatives. It is a flexible and smart solution that can be adapted to meet precise operational requirements to help us offer an unrivalled security solution."
About us
Skillweb provides mobile computing solutions that enable businesses to better track the movement of goods and to manage their mobile workforces. The company has been operating for over 13 years, deploying end-to-end tracking systems for an international client base, and is now responsible for in excess of a million transactions each day worldwide. Customers are fully supported by Skillweb's UK-based in-house development department and customer service team. Skillweb has a proven 99.99 percent system uptime record and on-going support - The envy of others in the industry.