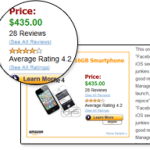 "It only makes sense that targeted ads based on the products the Affiliate is promoting, will generate higher returns and increase commissions verses that Adsense Ads,'' says Mr. Wesley, Managing Partner for PluginDynamo.com
Dallas, TX (PRWEB) May 16, 2013
"Affiliate Marketers spend a lot of precious time searching for Affiliate links and products," comments Wesley Williams, Managing Partner of Dallas based Internet Marketing Company, PluginDynamo.com. ''We wanted to improve the the process and maximize the income generating potential for affiliate marketers. We thought what better way than to create a Plugin for use with Amazon.com, the most trusted and largest product site on the Internet. This led to the original AdZonse Ads Plugin and today's update is a giant leap forward.''
AdZonse Ads is a WordPress Amazon Ads Plugin that displays Amazon Products on individual landing pages, site and blogs. It's an Adsense Alternative for bloggers looking for ways to generate income from their WordPress powered blogs.
This update to the back-end systems is revolutionary and improves upon how users create and target Amazon Ads. This new update allows users to create super targeted and relevant product ads by allowing site owners to search for relevant products via keywords as well as Amazon Product IDs - all from inside WordPress and create an AdZonse Ad.
''It only makes sense that targeted ads based on the products the Affiliate is promoting will generate higher returns and increase commissions verses that Adsense Ads,'' says Mr. Wesley.
The Amazon products are published through highly optimized Amazon product ads to the Marketer's site via two display options.
They are published either through the AdZonse Ads ad code from the Get Code section within the Plugin or directly inserted into the WordPress Theme/Template.
Mr. Williams adds, "We also included an 'Insert Ads' feature. Affiliates can now instantly advertise Amazon Products on their sites with the click of a button. No special coding or WordPress knowledge is required. These feature enhancements are based on current user feedback and demonstrate how truly powerful and practical this Plugin has become."
Learn More at: http://PluginDynamo.com/plugins/adzonse-ads/
About
Established in 2010, PluginDynamo.Com is a Dallas based company that specializes in Internet Marketing and Search Engine Optimization through creation of new and original WordPress Plugins that are designed to fix common WordPress problems and to better serve their customers. PluginDynamo.com