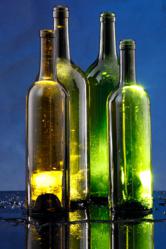 DIY is wildly popular right now, and it's been amazing to see just how many uses customers have found for our craft lights!
Boston, MA (PRWEB) May 07, 2013
Who says decorating with lights is only for the holidays?
Creative do-it-yourselfers are rethinking and re-purposing Christmas lights to create projects that bring cheer all year long. From decorative wall hangings to glowing centerpieces, the possibilities are seemingly endless.
Primo Lights, a leading online decorative lights retailer, has the lights to suit any project. The company carries dozens of craft lights in traditional incandescent mini light, battery-powered and LED varieties. Demand for these lights continues to grow as craft fair pre-orders arrive, and vendors prepare for the selling season.
Mini lights are designed specifically for crafting and have a single plug at one end of the string. This feature makes it easy for crafters to plug in their projects when they are done, while eliminating a second plug that might interfere with the design. Battery-powered lights eliminate the need for electrical sockets altogether and the LED lighting options use less energy than traditional lights.
Popular ways to begin crafting with mini lights include filling a Mason jar, wine bottle, vase or glass block with craft mini lights. Add potpourri for a subtle scent that will be enhanced by the warmth of the bulbs. Experiment with different colored lights and shapes of glass containers.
Another popular project is creating a vintage marquee by outlining a word or shape in lights on a wall. Illuminate your initials, write "Love" over the bed in the master bedroom or hang a star in a child's room. The soft glow from the lights can also serve as a nightlight.
"DIY is wildly popular right now, and it's been amazing to see just how many uses customers have found for our craft lights," said Primo Lights Operations Manager Scott Shelton. "It's an extremely versatile product and people have a lot of fun with it."
Craft projects using decorative lights have been featured on trendy do-it-yourself and home décor blogs, websites and television programs.
In order to accommodate all sorts of projects, Primo Lights carries craft lights in clear, multi-colored and single-color varieties. Customers can select strands with white or green wires and assorted bulb styles, including mini and wide angle. The company also carries a wide selection of hardware and accessories.
Once customers settle on the perfect lights to meet their needs, they can expect to get crafting quickly, thanks to Primo Lights' speedy, flat-rate shipping on all orders.
"Best prices I could find online and super-fast shipping!" said customer Bob Whippen of Weymouth, Mass.
About Primo Lights
Primo Lights is a leading provider of premium quality Christmas lights and an EPA-certified ENERGY STAR partner. The company offers a complete range of incandescent and LED holiday lighting and decorating products perfect for any occasion. Primo Lights serves commercial and municipal customers with a wide range of wholesale Christmas lighting and greenery products. For more information, contact Primo Lights at (888) 528-0309 or info(at)primolights(dot)com.