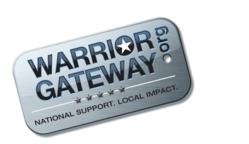 Arlington, VA (PRWEB) May 15, 2013
Warrior Gateway announced the launch of their updated online portal which now boasts over 200,000 non-profit and government resources serving the military community, searchable by geographic location and keyword – the largest network of its kind.
The nation's service men and women deserve not only to be honored and recognized for the sacrifices they have made for their country, but also ensured a seamless transition into civilian life. Warrior Gateway's innovative technology supports the amazing work of non-profits and government organizations across the country that are serving the military community. The vast size of the network will help veterans returning home from duty easily identify the best programs for their needs. The portal's user-friendly search eliminates the frustration often associated with locating support.
"Warrior Gateway has always been at the forefront of technology innovation in the non-profit field," said Warrior Gateway's Chief Executive Officer, Devin B. Holmes. "The next generation of our web portal is no exception and is just one of many changes to come for Warrior Gateway in the coming year. We are now better positioned than ever to connect veterans and their families with their local community – and this is just the beginning."
In addition to being the only organization to centralize services offered to the military community at such a grand scale, the Warrior Gateway community provides support to veterans through exclusive content, peer advice and, soon, rated service provider program experiences.
By joining the Warrior Gateway community, veterans will be first informed of new features and products. In the upcoming months, the organization will continue to introduce new features, and create the opportunity for the community to voice their opinions on the programs in which they have participated. As a result, veterans will be able make informed decisions on where to go for help based on the experiences of their peers and organizations can receive immediate feedback about what they are doing well and where they need to improve.
Warrior Gateway invites the military community to visit their improved portal, search for programs, and register: http://www.warriorgateway.org.
About Warrior Gateway™: Founded in 2009, Warrior Gateway connects service members, military families, wounded warriors, families of the fallen and our nation's veterans with government and non-profit programs in their local community. Warrior Gateway harnesses state-of-the art technology and community collaboration to help today's military community make better decisions about what service provider they can go to for help. Their programs provide a public forum where people can share their experiences about the quality and effectiveness of those services. In 2011, Warrior Gateway's efforts were recognized with the Federal Computer Week Fed-100 award for significant contributions to the Federal IT community and in 2012 with a ComputerWorld Honors Laureate for our innovation in creating an open-source platform for information sharing. A proud partner of the Got Your 6 campaign, Warrior Gateway works to bridge the civilian-military divide with non-profit and government partners. For more information, please visit: http://www.warriorgateway.org