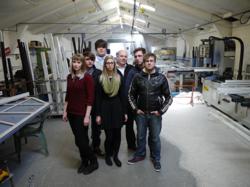 The Internet has changed the world beyond recognition. Just look at those going out of business; I believe that amongst other issues these are companies that failed to embrace the internet.
Chelmsford, Essex, United Kingdom (PRWEB UK) 14 May 2013
Pioneer Trading is continuing to expand the company's creative 'Geek Squad' of Internet experts and web and graphic designers as further resources are committed to online support services for its Signature brand and network dealers.
The latest member to join what is now a team of six specialists and Internet marketing experts is Helen James, an SEO expert. She joins a department that has been assembled with such skills as Analytics and Web Hosting as well as more conventional talents in design and marketing for both the Internet and print, with further members of the team being recruited over coming months. The purpose of assembling such a pool of talent is that the nature of home improvements has changed, says Pioneer Managing Director Danny Williams: "With the coming of the Internet the world has changed beyond recognition from when I started out," he says. "Just look at the number of retailers that are going out of business; I believe that amongst other issues these are companies that failed to embrace the Internet."
Danny says that the creation of a Digital Marketing Department at Pioneer with particular commitment to the company's Signature Network places a different emphasis on the future of the company with a key asset for the future being the Signature brand itself: "It's basic marketing but with a more sophisticated approach: The Signature brand will be developed with core qualities and values that will adhere to an increasing range of products and services that we will launch under the brand. Presently these include the Signature Window together with doors and conservatories, in addition to Solar PV.
"Our digital and conventional marketing services work to provide new web sites and other materials for the brand and our dealers with a goal of building a powerful brand and portfolio of products and services. Homeowners will increasingly recognise the Signature brand and instinctively trust it, backed up with superb marketing attributes as well as great products."
Ends
Issued by VAST PR on behalf of Pioneer Trading Ltd. For further information, contact Paul Godwin on 0845 0945 775; email paul(at)vastpr(dot)co.uk. March 2013.
Editor's notes:
Pioneer Manufactures Windows, Doors and conservatories to the trade on two sites in Chelmsford Essex.
Pioneer Trading began over 20 years ago and is one of Synseal's longest serving customers. Pioneer employees have extensive experience and are highly trained with constant reviews of training requirements. The company's main trading area is the South East of England. The organisation operates a Quality Management System that has gained BS EN ISO 9001: 2000 certification, including aspects specific to the fabrication and supply of PVC-U windows doors and conservatory roofs.
The company's Signature brand has been developed to provide an exclusive network through which new products, marketing, sales support and training are provided. Begun with the Signature Window, said to be the 'most efficient window in Europe', a range of new home improvement ideas and concepts will be launched continuously using the qualities associated with the Signature brand.