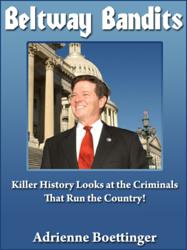 "I didn't come to Washington to get my ass kicked by everyone, " Matthew Lyons Ky Congressman (1798).
Durham, NC (PRWEB) May 15, 2013
The book Beltway Bandit by Adrienne Boettinger is now available for purchase. This book is a historical look at the political crimes committed by top American politicians.
Beltway Bandits: Killer History Looks at the Criminal That Run the Country is the latest series in the best-selling Killer History edition. Readers will see that Boettinger shares the desires of the ironic and funny side of history. The Killer History explores the funny and humorous site of history that is often not included in the history books.
Adrienne Boettinger shows in this book the men and women that lead this country that have succumbed to their own greed for both money and power instead of selflessly serving their constituents.
"A line I have shared throughout the Killer History series is that history boils down to a study of sex, money, and power. Beltway Bandits certainly chronicles the varied and sordid sex scandals that have landed elected and appointed politicos into trouble. The book notes how unremitted greed has allowed many politicians to exploit the public's trust for their own financial gain. Finally, Beltway Bandits examines the way that absolute political power corrupts absolutely!" said Boettinger.
The Beltway Bandits: Killer History Looks at the Criminal That Run the Country is fun and full of exciting history. This kind of book is a fast read and a disrespectful history of the dirtiest DC politicians. This book is highly recommended to read as it is full of information of past and present situations.