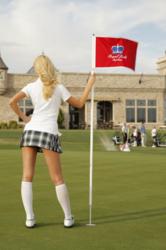 We're really excited about hosting the ParAm again this year. It's a great event that allows players to really cut loose and have fun with our gorgeous and knowledgeable Parmates.
Las Vegas, NV (PRWEB) May 17, 2013
Walters Golf announced today the return of their infamous Summer Golf ParAm. A play on the well-known "Pro-Am", the ParAm lets amateur golfers get up close and personal with the beautiful ParMates, female caddies who accompany golfers during their rounds at Bali Hai Golf Club, Royal Links Golf Club and Desert Pines Golf Club. Players can pre-register for the event at $275 per person, which gets them an array of perks including: two nights at the MGM Grand Resort & Casino, one ParMate per foursome, access to the live ParMate auction, limo transportation to and from Bali Hai Golf Club, VIP Access to Wet Republic and Tabu, and much more! If a golfer opts to just play in the tournament, without all the added extras, the cost is just $175.
This legendary golf tournament will take place Saturday, August 10th at Bali Hai Golf Club.
About Walters Golf
Walters Golf, a division of The Walters Group, has become one of the fastest-growing and most widely respected golf companies in the country. From its first venture into the private country club market in 1995 to today's ownership and operation of top-quality, daily fee golf courses, Walters Golf continues their commitment to quality and profitability while offering customers excellent value.
Led by businessman and avid golfer Bill Walters, Walters Golf is known in the national golf industry for developing first-class golf facilities. According to Executive Golfer, Walters is "Nevada's leading golf entrepreneur" who "recognized the need for visitor and corporate friendly golf facilities and packages, and seized on the opportunity, investing millions in four magnificent properties."