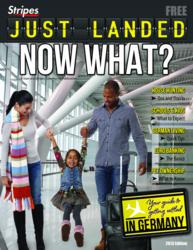 "Being married to the military is not just an expression for me, it's my life. When my husband gets orders, I drop everything I'm doing to follow him."
Kaiserslautern, Germany (PRWEB) May 16, 2013
Moving to Germany is an exciting opportunity for U.S. military members that can cause feelings of anxiety about the unknown, which is why the Stripes Just Landed, Now What? publication can help ease that transition with helpful tips about getting settled.
"Being married to the military is not just an expression for me, it's my life. When my husband gets orders, I drop everything I'm doing to follow him." said Jessica Soto, a military spouse living in Ramstein, Germany. "As quickly as his orders came in, is as quickly as I had to jump on finding a hotel, a home, and a car!"
Stars and Stripes knows that moving to another country is not an easy process; even under the best circumstances moving overseas is a stressful endeavor. Stripes Just Landed, Now What? publication assists excited, nervous and overwhelmed families to embrace a new lifestyle in Germany.
Stripes Just Landed, Now What? guide is jam-packed with:

Euro banking – you can't get anything done without it
Passing the driver's test and getting out on the Autobahn
From house hunting to a home – how to jump-start your housing search
Getting hooked up with utilities, cable TV, Internet & cellular phone service
Transitioning with kids – expectations for schools and child care
What you should know about owning pets overseas
Acclimating yourself to German culture
How to best handle an emergency on the economy
Reference charts that make metric conversions a breeze
Comprehensive list of organizations and websites for easy reference
Moving overseas can be a great adventure, but if you don't know what to expect and how to adjust then it can quickly turn into disaster. Read Stripes Just Landed, Now What? guide to be totally prepared for living in Germany and let your adventure begin!
_____________________
About Stars and Stripes
Stars and Stripes reports on military matters as the only independent source for news and information operating inside the U.S. Department of Defense that serves the global U.S. military community. Editorially independent of any outside interference and influence, Stars and Stripes provides commercially available U.S. and world news and objective, factual staff-produced stories relevant to the military community it serves.
In addition to providing news in print, Stars and Stripes offers its unique reporting on stripes.com, through the Tablet Edition app and iPhone App, both available on the App Store, a smartphone app for Android and through subscription to free email newsletters.