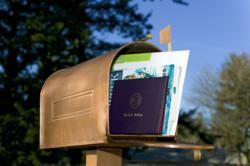 "Online classes provide flexible studying hours that allow me to continue with my work, family, and travels, says Oznur Root, Linfield B.S. in Accounting student.
McMinnville, OR (PRWEB) May 10, 2013
Linfield College Adult Degree Program bridges miles and continents to provide online degrees for adults.
Many adults today are looking to online degree programs to serve their educational and professional needs. This access to learning holds strong appeal to those adults living in locations at a distance from college campuses and metropolitan areas
It is now possible to earn a fully accredited bachelor's degree by taking all necessary coursework online. Linfield College offers accredited online degree programs that allow students access to courses and assignments online and the convenience to communicate with classmates and professors easily.
"Online classes provide flexible studying hours that allow me to continue with my work, family, and travels, says Oznur Root, Linfield B.S. in Accounting student. Regardless where I am around the world, as long as I am connected to the Internet, I am able to be in the classes, anywhere, anytime. The flexibility aspect of online classes is of great value to me," she continued.
Linfield College's online degree programs are perfect for students with schedules that demand flexibility, or for those who live in rural areas, as online courses allow students to study at any time and from any location. Linfield's online college platform, the Linfield Blackboard, provides students a virtual classroom, with links for submitting homework, discussion groups, and communication with classmates and professors - even tests. Even your advisor will be online. Linfield's National Online Advisor is available for questions and guidance regarding Linfield's online degrees and certificates.
Students of any age will need access to research materials and will find those resources online as well. Linfield College's Adult Degree Program Online Library Services are designed to meet the research needs of all our students and faculty wherever they are located. They include our Distance Learning Librarian and resources and services from the Jereld R. Nicholson Library on Linfield's McMinnville Campus, through library consortia, and electronic resources.
This new way of online learning allows a myriad of possibilities. Students can continue to live, work, and manage life while "attending" classes and complete assignments. The old obstacles to completing a degree or certificate, including location barriers have disappeared. Online learning is more than a little different. Students must organize and structure their own time and seek information. Participation is not optional.
"Through internet search I found what I was looking for in a school of choice at Linfield, with tremendous amounts of professional help. Linfield pays close attention to its students while having appropriate accreditations to provide academic classes that are competitive," said Oznur.
Those who cannot find the time to go to the Linfield College campus or any other campus, or face other kinds of impediments to physically attending classes, such as location there is good news. Access to knowledge still available from some of the best minds and educational institutions available, anywhere, anytime. By any measure, this is truly revolutionary.