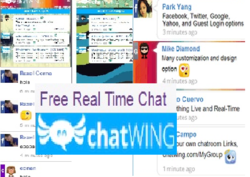 New York, NY (PRWEB) May 02, 2013
Chatwing Team raised the stakes of online visibility boost by launching the latest chat room: Chatwing 2.0. In this new version, bloggers and website owners can gain powerful communication advantage in just days or weeks of usage. One of the main features of Chatwing 2.0 is multiple chat network system. With this feature, users can now gather more information at a doubled rate. Apart from that, Chatwing's social media setup is faster and more accurate.
The Chatwing Team added Google and Yahoo login options. With this, visitors will have more login options to choose from, aside from Facebook and Twitter. Chatwing's social media integration can help website marketers gather leads for future references. Chatroom admins can also rely on this feature to find more subscribers within a short notice. There are also more avatars for the Guest login option.
The chat network system is also available in the new chatbox. Through this option, users can link their chatrooms together under specific groups. These groups can be accessed in the account dashboard wherein other customization options are available. Chatwing also has an unlimited message history, so admins can review the messages left by the chatroom's visitors.
Chatwing's developers are currently visiting blogs and forums, sharing vital information about online marketing and web traffic. Most of this information is related to modern marketing techniques and strategies. Bloggers can expect for more upcoming features in the Chatwing platform; information about updates and maintenance schedules are often posted in Chatwing Facebook page.
About Chatwing.com
Chatwing.com specializes in the new field of website chat. Over years, the Chatwing team has introduced live chat widget for hundreds and thousands of blogs. The Chatwing application bridges people from many parts of the world, creating global synergy through the Internet. The shout box can be installed in just seconds, and it can be used for varying purposes such as leisure and Internet marketing. It also allows a user to customize the size, color, and name of the widget. Chatwing is 100% free for everyone.