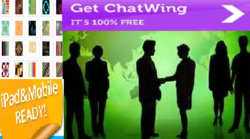 Seattle, WA (PRWEB) May 04, 2013
Chatwing.com is now ready to launch its newest chatroom tool to application review communities. In this new version, users can link their chatrooms together and they can have professional customization options. There are new background images and color schemes to choose from. Aside from that, the application's social media setup is faster and more reliable compared to other versions. The developers are certain that the chat tool can boost traffic rate by more than 60%.
Chatwing chatbox can improve the visibility rate of application review websites by providing communication leverage. Now, visitors can discuss their favorite applications and they can also post links of their reviews. Review makers, on the other hand, can gather the information presented on the chatroom in order to make convincing reviews. The Chatwing tool takes pride on real-time communication; users can gather information fast and without interruption.
Chatwing's social media integration allows users to log in with their Facebook, Twitter, Google, and Yahoo accounts. These login methods can improve the rate of exposure for any website or blog. Application reviewers can also take their reviews and discussions on the premise of social media. They can even join groups or pages that are related to the applications they are reviewing.
Reviews are essential in the online arena today. To help users gain access to more reviews—whether in products or applications—Chatwing Development Team will create more chatroom versions. Aside from that, they will also improve their chatrooms to deliver optimum chatting experience. Chatwing Team is also maintaining a Facebook page wherein updates and important content are always posted.
About Chatwing.com
Chatwing.com specializes in the new field of website chat. Over years, the Chatwing team has introduced live chat widget for hundreds and thousands of blogs. The Chatwing application bridges people from many parts of the world, creating global synergy through the Internet. The shout box can be installed in just seconds, and it can be used for varying purposes such as leisure and Internet marketing. It also allows a user to customize the size, color, and name of the widget. Chatwing is 100% free for everyone.