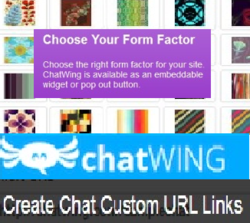 Seattle, WA (PRWEB) May 05, 2013
Microblogging in Twitter is growing continuously, spanning one topic after another. This fact is based on the observation of many Twitter professionals from different communities. To help Twitter users boost their microblogging campaigns, Chatwing.com launched the newest version of its website chatroom. The new version has simplified professional features and advanced customization setup. More than that, the chatroom tool allows varied social media integration.
Users can now log in with their Twitter accounts, and this can greatly help any microblogging process. Once logged in through Twitter, the users can now send invitations to each other, widening their social networks. Facebook, Google, and Yahoo login methods are also allowed for all users of the Chatwing chatroom. The developers improved the platform's social media process, so that users can log in easily and without glitches.
Another feature offered in the new version of Chatwing app is chat network. With the chat network system, users can now link their chatrooms in one group. Once all chatrooms are linked, information will travel fast and users can get the data they truly need. In terms of microblogging, this simply means that the user can find more subscribers within short notice. According to Chatwing's developers, the chat network system can provide more than 40% growth to any website or blog. The chatroom does this by turning the website into an active lounge where people can gather and discuss important things.
The Chatwing chatbox will also have more upcoming features in the coming months. To prepare for this, the developers are working hard in creating awareness and marketing campaigns. Twitter users and microbloggers can freely visit the Chatwing page to know more information about the innovative chat tool.
About Chatwing.com
Chatwing.com specializes in the new field of website chat. Over years, the Chatwing team has introduced live chat widget for hundreds and thousands of blogs. The Chatwing application bridges people from many parts of the world, creating global synergy through the Internet. The shout box can be installed in just seconds, and it can be used for varying purposes such as leisure and Internet marketing. It also allows a user to customize the size, color, and name of the widget. Chatwing is 100% free for everyone.