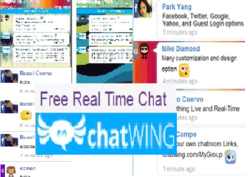 San Antonio, TX (PRWEB) May 06, 2013
As part of its newest strategy, Chatwing.com launched the platform 2.0 – a chatroom tool that is capable of enhancing global connectivity by more than 60%. The chatroom was primarily launched in blogging communities, and it is now actively introduced to dating sites. The company's developers believe that the chatroom is essential for dating sites because of the connectivity rate that it can offer. Visitors of the dating site can discuss about intimate things, and they can also exchange social media accounts.
For the chatbox admin, there are hundreds of color combinations to choose from. Since a dating website or blog deals with intimate things and romance, users can select from mildly enticing colors. Aside from that, there are also available background images that are soothing to the eye. These background images were created by Chatwing's developers prior to the launch of platform 2.0. As a bonus, the admin can upload a background image of his choice. This simple feature can help improve the exposure of any dating website.
Compared to other chat apps, the Chatwing tool has cutting-edge chatroom network system. This feature allows users to link their chatrooms under one group or network. Currently, the developers are working on a dating network to ensure that people from dating sites can become more connected. The networks can be accessed in a user's account dashboard.
With a reliable chatroom embedded in a dating site, the visitors can get to know each other even more. Unfaltering communication is the key to dating success, and the Chatwing tool can ensure this for many months and years. The company's developers are also working hard in creating changes and updates to ensure the efficiency and stability of the platform.
About Chatwing.com
Chatwing.com specializes in the new field of website chat. Over years, the Chatwing team has introduced live chat widget for hundreds and thousands of blogs. The Chatwing application bridges people from many parts of the world, creating global synergy through the Internet. The shout box can be installed in just seconds, and it can be used for varying purposes such as leisure and Internet marketing. It also allows a user to customize the size, color, and name of the widget. Chatwing is 100% free for everyone.