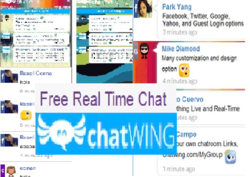 New York, NY (PRWEB) May 07, 2013
Google is considered as the most important search engine and information portal in the Internet today. Many professionals even believe that Google is the Internet, by right. Studying the growing potential of Google, Chatwing.com and its team of talented developers unveiled the chat platform 2.0. This latest chatroom can be used by Google users in finding more friends and contacts. Google login method is also allowed in the new Chatwing platform.
Chatwing's developers have stated that the Google login add-on was borne out of users' feedbacks. "Most of the users we have are email marketers. Yes, email marketing is still alive and kicking. Google marketers sent us feedback queries, and they requested Google login options. So, we optimized it in the new platform. We also have new surprises to our loyal users," Says Mike Diamond, a core developer for Chatwing. Changes were also implemented in the Google login process to deal with the influx of users.
Another feature offered by the latest Chatwing chatbox is the second theme: live user detection. In this theme, active users can be detected by the Chatwing tool. Aside from that, their messages will also appear, so other users can review data. Google marketers and users can rely on this option, especially if they are handling important niches. The live user detection just takes an extended portion of the chatroom sidebar.
Chatwing's developers ensure all registered users that more features will be introduced in the coming months. With these features, communicating with the Chatwing platform will become better and web users can reach more online goals. Niche bloggers and site owners can also benefit from the platform in terms of web traffic.
About Chatwing.com
Chatwing.com specializes in the new field of website chat. Over years, the Chatwing team has introduced live chat widget for hundreds and thousands of blogs. The Chatwing application bridges people from many parts of the world, creating global synergy through the Internet. The shout box can be installed in just seconds, and it can be used for varying purposes such as leisure and Internet marketing. It also allows a user to customize the size, color, and name of the widget. Chatwing is 100% free for everyone.