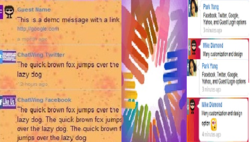 Dallas, TX (PRWEB) May 08, 2013
Pet care website owners can now rely on the communication advantage offered by Chatwing's newest chatroom tool. The application has many known features, such as social media integration, chat networks, advanced customization, unlimited chat box creation, and live user detection. With these features, the chatroom can raise a pet care website's online presence by as high as 50%.
Pet owners can benefit from the communication leverage offered by Chatwing chatbox. They can share their experiences in taking care of their pets and potty training techniques. Aside from that, they can also post links to their pet websites for an added exposure. Chatwing's chat network system can also contribute largely. This feature works on a simple premise: users can link their chatrooms together in one network or group. Once chatrooms are linked, users can gather the information they need at tremendous speeds.
Installation of the Chatwing chat app can also be finished in just seconds. The user just needs to input his email address and desired password—there is no need for activation links and any confirmation. After installation, the user can go to the account dashboard and start making chatrooms from scratch. In customization, the user can access various color schemes and background images. Other admin parameters are also included in the dashboard.
Aside from the pet care community, the Chatwing Development Team will also expand in other known niches. In this way, more web users can gain communication leverage and new chatting experiences. Updates about the Chatwing chatroom will also be posted in Facebook and Twitter.
About Chatwing.com
Chatwing.com specializes in the new field of website chat. Over years, the Chatwing team has introduced live chat widget for hundreds and thousands of blogs. The Chatwing application bridges people from many parts of the world, creating global synergy through the Internet. The shout box can be installed in just seconds, and it can be used for varying purposes such as leisure and Internet marketing. It also allows a user to customize the size, color, and name of the widget. Chatwing is 100% free for everyone.