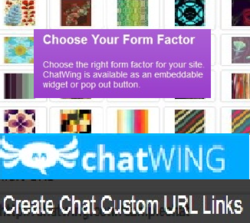 Cambridge, MA (PRWEB) May 10, 2013
Chatwing.com and its developers are now advancing to the social advocacy niche through its newest chatroom tool. In the company's expansionist campaign, the developers stated that the application is meant to improve the global connectivity among social advocates and website owners. The developers have also emphasized the importance of global chat everyday. The Chatwing tool acts as an online lounge wherein visitors can discuss about pressing issues and global changes.
The versatility of the Chatwing chatbox is measured in the customization leverage that it can offer to web users. After registration, which takes only few seconds, the user can now go directly to his dashboard and start editing the chat box. He can select from Chatwing's collection of colors, background images, and other settings. Social advocates can rely on these options to find more subscribers and members in the cyberspace. This is an important step because online presence is a universal way of reaching out to people, according to many Internet professionals.
Chatwing.com recently introduced the chat network system. With this, chatroom admins can have broader communication reach because they can now link their chat boxes together. By linking the chatrooms, users can delve in more interesting discussions about important topics. More than that, social advocates can even spread awareness in just simple steps.
Chatwing Company is not just expanding without a clear strategy or vision. According to the company's dedicated team of developers, moving into the social advocacy niche is just one of the first steps. Within months, Chatwing will move to other online areas where communication is highly needed.
About Chatwing.com
Chatwing.com specializes in the new field of website chat. Over years, the Chatwing team has introduced live chat widget for hundreds and thousands of blogs. The Chatwing application bridges people from many parts of the world, creating global synergy through the Internet. The shout box can be installed in just seconds, and it can be used for varying purposes such as leisure and Internet marketing. It also allows a user to customize the size, color, and name of the widget. Chatwing is 100% free for everyone.