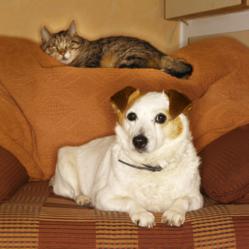 Veterinary hospice is about optimizing quality of life for a pet
Stamford, CT (PRWEB) May 16, 2013
Veterinary hospice care is not necessarily instead of euthanasia, but for many it precedes the decision to put a dog or cat to sleep once suffering can no longer be relieved. The veterinarians at Gentle Goodbye Veterinary Hospice provide quality of life assessments and ongoing "comfort care" for pets at home in the final stage of their lives. Care often centers on improving mobility and controlling pain. Care may also include supporting nutrition, hydration and hygiene depending on the pet's needs and owner's desires. Alternate therapies like physical therapy, acupuncture and massage can also be used.
Although in human healthcare the modern concept of hospice has been around for only a few decades, the idea of providing comfort care to dying patients has been documented for many centuries. As veterinary care continues to parallel human healthcare, veterinary hospice care has become a service people want for their dogs and cats.
"The critical shift for veterinary hospice is a change in the goal of care," explains Dr. Craig, "For the life of a patient, the goal of veterinary care is to prevent, diagnose and treat diseases and this significantly extends the average pet's life. But for many people, there comes a time when they really just want their pet to be comfortable and safe for the days that remain."
In addition to providing comfort care to the patient, veterinary hospice is also about helping the family of the pet prepare for and come to terms with the inevitable loss. Choosing to euthanize a pet and knowing when "it's time" are the hardest decisions animal lovers have to make. Having people and resources to help with the issue can make the process easier and prevent unnecessary suffering.
The American Veterinary Medical Association (AVMA) supports veterinary hospice and has issued guidelines that state in part, "Veterinarians or veterinary hospitals that are unable to offer hospice care should be prepared to refer clients to another veterinarian who can offer these services. Referring this activity does not infer that excellent care is not being delivered by the referring veterinarian, but provides more options for the client desiring to access veterinary hospice."
As animals continue to grow in importance and become integrated into families, taking care of a dog, cat or other animal as they reach the end of their life and providing comfort, dignity and respect are critically important aspects of pet ownership.
About Gentle Goodbye
Founded in 2011, Gentle Goodbye offers mobile veterinary service providing house calls for end of life care in Southwest Connecticut and parts of New York. For more information including a coverage map, services and prices, visit GentleGoodbye.org