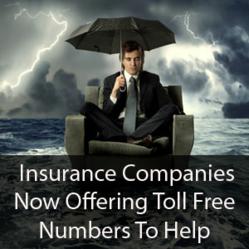 "A number of insurance companies are now offering their clients the ability to call them free of charge via toll free numbers that they have registered, specifically for this time of emergency," says Logan Marshall
Irvine, CA (PRWEB) May 24, 2013
Tollfreenumber.ORG, a major company providing phone numbers in the toll free industry for the past decade, has recently disclosed information about the increase in toll free number usage as a result of recent natural disasters such as the Oklahoma tornado and Hurricane Sandy and has highlighted how toll free numbers still play an important role in not just the business world, but in times of emergency as well.
"A number of insurance companies are now offering their clients the ability to call them free of charge via toll free numbers that they have registered, specifically for this time of emergency," says Logan Marshall, Founder of tollfreenumber.org. "Policy holders of several major insurers are now able to call the companies directly and speak to an actual person regarding their benefits, as well as to arrange for an adjuster to come to their location to assess the damages made to their homes or businesses."
Those who were impacted by the recent disaster are being urged to see if their insurance companies offer them the opportunity to reach them via a toll free number. This can often be a more direct and effective form of communication when compared to an email or website. You can find out if your insurance company offers a toll free number by doing a simple online search or speaking with your local insurance agent.
Tollfreenumber.ORG specializes in assisting small businesses by providing low-cost toll-free phone numbers that require no additional hardware and can be routed to any phone. Businesses can use the company's website to search for available custom phone numbers in the 800, 888, 877, 866 or 855 area codes. The company also offers additional business services through its Virtual Telecenter, which provides 24-hour live answering, among other services. Tollfreenumber.ORG is based in Irvine, Calif., and was founded in 1999. The company serves more than 100,000 customers throughout the United States. For more information on getting a toll-free customized phone number for small business use, contact Tollfreenumber.ORG at 1-800-951-9411, or visit the company's website at http://www.tollfreenumber.org.