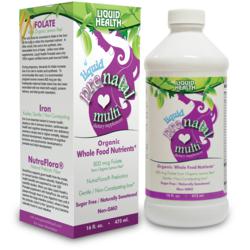 Folate is clearly more beneficial than Folic Acid for pregnant women, that's why we decided to use it in our liquid prenatal vitamin.
Murrieta, CA (PRWEB) May 28, 2013
Folic Acid and Folate are both names for a group of water soluble vitamins. While the names are sometimes used interchangeably, they are really quite different. Folic Acid is the synthetic acid form of the naturally occurring Folate. Liquid Health's brand new Liquid Prenatal Vitamin contains Folate.
Studies over the last decade have shown that an increased intake of Folic Acid can lead to various health problems such as an increased decline in cognitive function, anemia and an inability to detect a Vitamin B12 deficiency. On the other hand, taking supplemental Folate does not carry these same risks. Folate is necessary for the formation of red blood cells as well as healthy nervous system function.
Additionally Folate is extremely important during pregnancy because of its ability to prevent neural tube detects in the developing fetus. Women who are pregnant or trying to become pregnant should take between 800-1200 mg/day of Folate.
"Folate is clearly more beneficial than Folic Acid for pregnant women, that's why we decided to use it in our liquid prenatal vitamin," says Brandon Siggard, CEO of Liquid Health, Inc.
Liquid Health's Prenatal Vitamin includes:
Vitamin A 5000iu
Vitamin C 150iu
Vitamin D3 800iu
Vitamin E 30iu
Thiamin (Vitamin B1) 2.3mg
Riboflavin (Vitamin B2) 2.6mg
Niacin (Vitamin B3) 200mg
Vitamin B6 2.8mg
Folate 800mcg
Vitamin B12 200mcg
Biotin 300mcg
Pantothenic acid 15mg
Calcium 20mg
Iron 18mg
Iodine 100mcg
Magnesium 2mg
Zinc 10mg
Selenium 45mcg
Manganese 2mg
Chromium 100mcg
Molybdenum 75mcg
Choline 15mg
Trace Mineral Blend 3mg
The Liquid Health Prenatal supplement also contains a Whole Food Nutrient Blend comprised of Red algae mineral blend, NutraFlora ScFOS prebiotic blend, Acai Berry, Bilberry, Cranberry, Mulberry, Strawberry, Certified Organic Guava extract, Certified Organic Lemon extract, Certified Organic Sesbania Grandiflora extract, Certified Organic Amla berry extract, Certified Organic Holy Basil extract, Certified Organic Annatto extract, Fruits & Greens Antioxidant Fruit and Vegetable Blend extract including: Banana, kiwi, mango, pineapple, cranberry, cherry, raspberry, red pepper, plum, apricot and ginger.
About Liquid Health, Inc.:
Liquid Health, Inc. has been designing and manufacturing liquid vitamin supplements since 1991. All Liquid Health products, including Liquid Health Prenatal Vitamin, are manufactured in a certified-cGMP (current Good Manufacturing Practices) facility, using only premium/qualified ingredients, and are analyzed and tested. All Liquid Health products are made in the U.S.A.
Contact:
Sarah Brimhall, Marketing Associate
Liquid Health, Inc.
800-995-6607
http://www.liquidhealthinc.com