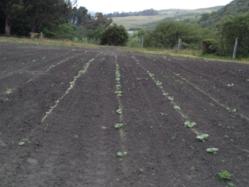 "I could source even organic oils for less than half the cost of the local. But, I am committed to community, purity and sustainability. Customers appreciate that." Sandra Klein
Half Moon Bay, CA (PRWEB) May 30, 2013
In a world where it is often surprisingly cheaper to import materials ranging from foods to packaging from overseas, Route One Pumpkins is going the opposite direction and sourcing as locally as possible. Route One Pumpkin seed oils are the product of locally planted heirloom varietals, organically-farmed, and locally harvested and dried, then pressed for virgin, food-grade oils.
"What many consumers do not know," says Sandra Klein, who created Route One Pumpkins, "Is that companies can legally sell their product as "Made in USA" as long as it has been what the FDA calls "significantly transformed," as in the case of pumpkin seeds being pressed to pumpkin oil. (1) "That means you could be buying vegetable, nut or seed oils where the ingredient was grown, for example, in China but pressed in the USA." This is perfectly legal but not what the consumer expects.
Route One Pumpkins sources pumpkins from Tunitas Creek Family Farm in Half Moon Bay, where the family, according to Richard Holz, has been growing pumpkins without pesticides or fertilizers for decades, so we know exactly how they have been farmed in our pristine coastal environment. It seems rather insane to import and ship seeds all over the world when we can grow them right here. "We plan to expand our business in the future even to offer USDA certified organic, heirloom styrian pumpkin seed oils locally, as pumpkin seed oils offer great health benefits in addition to flavor," says Klein, "They are high in zinc, omega fatty acids, vitamins and antioxidants. Pumpkin Seeds and oil is terrific on salads and in many recipes."
Our soaps are hand-crafted and all scraps are re-used for zero-waste production. Our soap boxes are made locally in a 100% solar-powered plant with zero wastewater discharge, from 100% recycled materials. Promotional materials are printed in Berkeley on recycled paper with soy inks.
The immediate result of all these local partnerships and attention to sustainability are soaps that offer a rich lather, indulging the senses with delightful essential oils and leaving naturally nourished skin. Currently, three versions are available in two sizes each with more coming soon: Decadent Pumpkin Pie, Ginger fog-Buster and Ultra-Sensitive with Calendula and Chamomile extracts. Appropriate even for dry and sensitive skin, Route One Pumpkins soaps are guaranteed free of suspected endocrine disruptors, including Pthalates, soy and BPA, free of petroleum-or animal-sourced ingredients, detergents. Route One Pumpkins has an express policy against animal testing and has been verified by Leaping Bunny.
And, of course, soap is itself a sustainable product which immediately breaks down in the environment and which has a much lower carbon footprint in manufacture and shipment than body washes or liquid soap.
Available at select local stores, including Alena Jean's, Piazza's, GiftsAGoGo, Country Sun, at Half Moon bay and Burlingame Farmers Markets and online at Etsy and RouteOnePumpkins.com
Source:
(1) http://www.fda.gov/ICECI/ComplianceManuals/CompliancePolicyGuidanceManual/ucm074567.htm