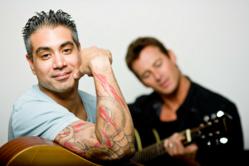 "From your first lesson, I will have you playing. And, I will inspire you to keep on playing. The guitar is not an easy instrument to play; but if you aspire to be an accomplished player; I can get you there."
Fort Lauderdale, Florida (PRWEB) May 01, 2013
According to CNN.com, in 2011 42.1% of Americans planned to save their tax refund funds, 41.9% planned to spend it to pay down debt, 29.7% planned to spend it on everyday expenses, 13.2% planned to spend it on a major purchase, 11.9% planned to spend it on a vacation, and 6.7% planned to spend it on other things. But why not spend this influx of new money learning a fun, educational new skill with Fort Lauderdale guitar teacher Dyce Kimura?
The positive effects of music continue to be heralded by influential companies and renowned scientific studies today. On SAT tests, the national average scores for the verbal section was 427 and 476 for the math section. Music students averaged a score of 465 on the verbal section and 497 on the math section, which is 38 and 21 points higher, respectively, than the national average. Dyce Kimura's Fort Lauderdale guitar lessons can help your child achieve the SAT score they are hoping to get!
But the proof does not end there, as Dyce Kimura knows full well - music helps students beyond grade school and into college and beyond. The American Music Conference reported that musicians are 52% more likely to continue on to college and other higher education than non-musicians. USA Today stated in a 1987 article, "Musical training can be a big help in getting to the top of business and politics, according to most congressmen and Chief Executive Officers of Fortune 500 companies. Ninety percent of more than 1,000 CEOs and congressmen interviewed by the McDonalds's fast food chain said playing a musical instrument as a child helped them develop 'character and leadership skills.'"
Consider spending your hard-earned tax refund by enriching your children's minds and hearts and encouraging them to learn a new skill that will benefit them mentally, physically, emotionally, and more.
Dyce Kimura is an experienced, highly regarded guitar instructor of Fort Lauderdale guitar lessons. For years, Dyce has been a fan of young and old students alike, who know they can trust Dyce's one-on-one coaching technique and the variety of skills and songs they will learn during his lessons.
To learn more about Fort Lauderdale guitar teacher Dyce, his unique teaching methods, and his various locations, contact him at 786-457-3687 or visit dycekimura.com.