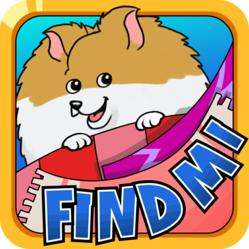 Our mission is to create games that are simple to play, with loads of fun.
Singapore (PRWEB) May 07, 2013
Find Mi, an app created by independent developer Sam Wei Shen Lim, officially launched on the iTunes store this week. Find Mi is a seek-and-find puzzle game in which players are given a random "character" or animal to find and match amongst a slew of other moving characters.
"Our mission is to create games that are simple to play, with loads of fun. We believe that mobile devices are the best thing to keep us entertained anytime, anywhere and we want to create games that even we ourselves would love to play," said Lim.
The game begins as the "roulette" randomly assigns a character to be searched for in each stage. Once the clock starts, players must hurry and "Find Mi" before time runs out. Players gain five seconds for each character found. "Treats" are earned every game, and stored in your "Wallet"; use treats to purchase more power-ups, characters, and accessories for your animals. There are 160 different animal/accessory combinations to choose from.
"All aspects of the games we develop are done with attention to every detail including art, background music, sound effects to the best of our abilities and we sincerely hope that our work will be appreciated by all who comes across it," Lim explains.
Players also unlock achievements as they progress through stages, conquer challenges, compete against friends in the Game Center Leader Board, and share scores, a necessary feature in today's social-media-heavy world.
Based in Singapore, Sam Wei Shen Lim is an independent developer who strives to create fun, simple, yet engaging mobile apps that cater to a wide age group. Sam's first project, Find Mi, is a unique seek-and-find puzzle style game in which users are given a random "character" to find and match amongst crowds of other moving animals. For more information about Find Mi, check it out here.