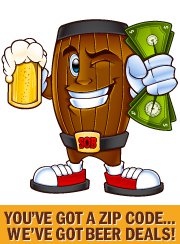 The cool thing about our app is that it's designed to get you cheap beer fast.
Houston, TX (PRWEB) May 09, 2013
This month, CNET posted a new video of "Best Apps for Beer Lovers." Among those listed are: Untappd (a Foursquare type check-in, rating and reviewing system); BeerBuddy (a barcode scanning app that pulls up vital info); and BJCP Styles (a beer literacy and tasting skill app). The one app missing from the list is the newly debuted SaveOnBrew Beer Price App, which gives consumers a localized listing of beer sales, deals and specials in their area.
"We thought it was crazy that we could use apps like Gas Buddy to find out where to find the cheapest fuel in our city, but there was not even a reliable website where we could find beer prices," explains SaveOnBrew founder Mark Davidson.
In 2010, he launched an ambitious effort to list hundreds of thousands of up-to-date beer prices online at SaveOnBrew.com. "It became clear to us that crowdsourcing wasn't going to work," Davidson says. "The data was just too sparse and unreliable. So we began networking with grocery chains, mom and pop liquor shops, breweries, and other beer vendors to offer them a method of free advertising. Not surprisingly, it worked!"
Today, the mobile Beer Price App (which works on both Android and iOS platforms) lists between 250,000 and 350,000 beer prices from more than 50,000 retailers on any given day. Consumers simply visit iTunes or the Google Marketplace to download the free app and enter in a zip code to receive a fresh list of beer sales within a 5 to 20 mile radius.
Additional features of the new app let users:

Pull up maps and driving directions to retailers offering beer sales
Shop beer prices based on type of beer, brand, or retailer
Share their cheap beer deals on Twitter and Facebook
"The cool thing about our app is that it's designed to get you cheap beer fast," Davidson says. "It's not something you're going to be sitting there using at the bar like a loser. Instead, you're the hero of the party who quickly locates the best beer for the best price."
More information can be found at SaveOnBrew.com.
# # #
About SaveOnBrew.Com: Founded in 2010 to help thirsty beer drinkers across the United States find the lowest advertised prices for one of the world's most popular beverages.