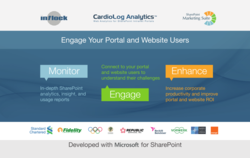 The SharePoint Marketing Suite webinar will help existing SharePoint customers understand how they can leverage tools
(PRWEB) May 02, 2013
Intlock's leading website analytics product, the SharePoint Marketing Suite, will be presented in a 60 minute, free online webinar in its entirety.
The webinar is going to be held on the 10th of April at 1:00 pm EST and will be hosted by one of Intlock's specialists. It will feature tips and new ways to use the SharePoint Marketing Suite tools. There will be special references on compatibility with SharePoint 2013 and SharePoint usage repots.
"The SharePoint Marketing Suite webinar will help existing SharePoint customers understand how they can leverage tools such as web analytics, campaign tracking, visitor profiling, and more for their website." – Yarin Negri, Marketing Director at Intlock
Signing up for this webinar is easy, just click on the following link: https://www4.gotomeeting.com/register/883322833, and input your name, email and organization.
About Intlock
Intlock was founded in 2005. Ever since, it has been a leader in analytical solutions for SharePoint Intranets and Internet websites. As the company's flagship product, CardioLog Analytics set Intlock apart and put it ahead of the competition. CardioLog provides organizations with insights on how their SharePoint portal is being used, and helps optimize the portal. As organizations started to expand, so did the use of SharePoint to public facing websites. A demand grew for marketing tools designed for SharePoint, which lead to the release of the SharePoint Marketing Suite, which includes a wide range of marketing solutions for enterprise-level websites.
Today, Intlock products support all of the SharePoint versions, including the new 2013 edition. They offer a variety of insightful features and tools to help optimize portal and site productivity, as well as maximize the ROI.
Intlock, based in Boston, Massachusetts, has offices and partners throughout the world. Some of the customers utilizing these products are large worldwide enterprises such as Applied Materials, Fidelity Investments, and US Department of State. We also offer a variety of packages for small business and NGO's.
# # #
If you would like more information about this topic, please contact Iva at +1-617-500-8461 (US) or email us at info(at)intlock.com or iva.isakov(at)intlock(dot)com.