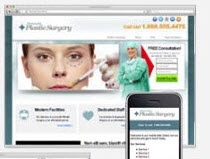 I have learned what works and what doesn't work. I know how to design a website that turns website visitors into new patients.
Houston, TX (PRWEB) May 07, 2013
The average website visitor is going to spend a few seconds looking at a page before deciding to move on or read the page in detail. For a plastic surgeon, those critical few seconds are the difference between a new patient and losing that person to another practice.
"I have studied the plastic and cosmetic surgery industry from a online marketing perspective," said James Dreesen. "I have learned what works and what doesn't work. I know how to design a website that turns website visitors into new patients."
For example, he said a top website for plastic surgeon will immediately tell a viewer three things:

What kind of surgeon and specialties the clinic offers
Where the office is located
How to contact someone for a consultation
"That is what people want to know when they are considering cosmetic surgery. If you can deliver those three bits of information up front and within a few seconds, you have a good chance of turning that page viewer into a surgery patient," Mr. Dreesen said.
Beyond those three basic and upfront items, a website also needs to have more detailed explanations of the kinds of surgery offered. This often means before and after photos, explanations, and a primer on what to expect before, during and after the surgery.
"At the same time, your page doesn't need to give out detailed medical advice. That needs to be done in your office. The webpage is there to get their attention and show that you are an expert in the field," he said. "The website is your first introduction to a patient and they need to have the feeling they can trust you."
Dreeson's service offers a three-step process for his plastic surgery website design services.
http://www.cosmeticsurgeonsonline.com/plastic-surgery-website-design/
First, his company mocks up a webpage and presents it to a doctor for approval. The site is tailored to meet the exact needs of the clinic. Any changes are made here. If necessary, Dreesen can also help obtain a domain name and help brand the practice.
Second, the website is actually coded and uploaded to the world wide web. Once live, it is checked again to make sure all the elements match the mockup version.
The third part is marketing.
"Simply having a webpage is not enough. It has to be marketed online. You need a plastic surgery website and marketing plan that puts your practice in front on new patients," Mr. Dreesen said.
About JD Media Surge, LLC:
Founded by James Dreesen to help doctors and plastic surgeons get more new patients from the Internet! James is a Google Analytics Certified professional who specializes in helping surgeons design websites that convert more visitors into new patients.
Google+
Twitter