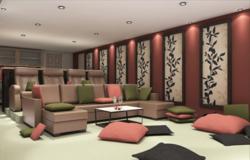 Arcbazar made the process of finding architects easy and the finished products were awesome -- at a great price!
Cambridge, MA (PRWEB) May 21, 2013
Arcbazar announces the first-of-its-kind crowdsourcing platform that helps home-owners to transform basements into full fledged home-theater spaces.
Every home owner dreams of having the perfect basement space that combines good entertainment, secluded relaxation, and extra organized storage. Office nooks, fireplaces, billiard tables, wine cellars, bars, kids' play areas, private home-theaters. The wish list goes on and on, but in most cases remains exactly as so- a wish- since the takes of modern life, family economics, and other home renovations get on the way.
Arcbazar.com, a Cambridge-based start-up company, offers an easy, affordable and convenient way to post such and similar home remodeling projects online. Home owners can post their design challenges on the crowdsourcing platform and launch competitions among designers worldwide. These projects can range from redesigning closet spaces, to kitchen remodeling projects, to additions, landscape projects, retail spaces and entire new homes. Designers from all around the world review and participate in these competitions and offer customized design concepts to suit client's peculiar needs.
Michele C. and her husband had just purchased a new home with an unfinished basement in Andover, Massachusetts. They wanted to utilize their basement, but were not sure how to go about it. Therefore, they launched a competition on Arcbazar to get multiple design ideas that they can implement later on. The challenge they posed to designers was to develop a home-theater with a small stage in the front for their child to perform small acts. Michele was very excited with the overall competition process, "My experience with Arcbazar was awesome! We provided a basic floor plan with dimensions, some photos of the existing conditions and some photos of home theatre features that we like." Every home poses a different set of constraints, spatial realities, and owner's expectations to designers. Therefore, each project needs customized design solutions that often cannot be satisfied with standard approaches from home-improvement vendors.
Michele's competition received in total 12 submissions from designers all over the world. The process is totally anonymous, neither the designers' nor the clients' identity is disclosed during the competition. Every designer receives a specific alias number for each project they participate in. This number allows designers to communicate with the client anonymously on the project's public wall feature. Designers can post questions, and clients can add text, images and other relevant files until the competition is over. This communication channel proofed to be very practical and useful, since each project requires in-depth conversation among clients and designers.
Michele and her husband picked the design of Gordana Potezica, a young architect from Serbia, to transform their unfinished basement into a full-fledged home-theater. "The beauty of getting 12 designs is, you end up getting interesting and creative ideas that you or a single architect would have never thought of. We originally thought we knew where the screen, seating, fridge would go, but, now have a totally new creative design that we are going to implement," Michele says, "Arcbazar made the process of finding architects easy and the finished products were awesome, and at a great price!"
About Arcbazar
Arcbazar.com, Inc. is the first-of-its-kind online crowdsourcing platform for architectural design projects. The company connects clients with designers worldwide, and allows clients to run competitions for their remodeling, home, commercial and interior design projects. To learn more, visit http://www.arcbazar.com.