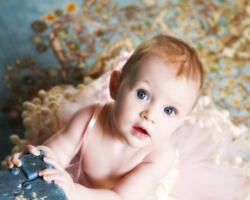 Shui Baby clears a path for a child's life so their natural gifts can emerge

--Aymey Sangill
Portland, OR (PRWEB) May 01, 2013
The most pressing question of new parents is often, "How can I provide the best for my child's growth and well-being?"
According to Aymey Sangill, this answer can be found in the ancient art and science of Feng Shui. Sangill's new company, Shui Baby, focuses on creating the ideal environment for babies and their parents to encourage more restful sleep, as well as the positive development of the baby's natural talents and gifts.
"Imagine, from the day your little one is born, knowing that you have created an environment that encourages better health, happier play and the best opportunity for growth and learning," Sangill said. "The art of placement through Feng Shui is an inspiring skill that creates a strong foundation of balance and soothing energy within your home, designed to bring calm and rejuvenation."
For over a decade, Sangill has studied Feng Shui extensively, intrigued by the idea of positive energy flow within a home and its direct effects on the areas of life that call for enhancement, nurturing and growth. She has discovered that her clients have a need to create change and move objects within their homes, knowing that something feels "stuck" or they feel weighed down by clutter and disorganization. Ms. Sangill's clients report that even small shifts in their environment can create a new energy that manifests in positive and profound life changes.
"When Aymey explained her Feng Shui Tips and how I could enhance my life through what I have in my home, I realized the flow, energy and colors in my child's bedroom felt really impersonal," client Reesa Clow said. "Aymey has a passion for the work she does in Feng Shui, focused on the design of my children's surroundings. The changes improved my life, along with the lives of my children."
Sangill was surprised to learn there is a lack of information and focus on using Feng Shui specifically for babies and new parents to design a more fulfilling and abundant life. This is how Shui Baby was born.
"I want to help parents create a nurturing, supportive environment for children from the very beginning," Sangill said. "This concept is about learning to simplify, tune in and provide the best opportunity for growth, renewal and rest. It's amazing how implementing a few Feng Shui tips such as placing simple, but deeply intentional pieces of art work, or the specific arrangement of furniture, can have a dramatic effect on the happiness of you and your little ones."
Shui Baby's mission is to clear a path for the child's innate gifts to emerge with direction and purpose. Feng Shui is about balance and harmony, all the elements working in unison, instead of in opposition to each other. Each consultation is a unique co-creation between client and expert to focus on and enhance the client's intentions and desires, as well as the child's needs.
Sangill's passion for Shui Baby's role in a family's life is evident. "My vision is to help support new generations in utilizing the natural elements and energies around them, to cultivate their truest passions and joys in life, whatever they may be." she said.
For Portland-area residents, Shui Baby will be holding a launch party on May 4, 2013, from 1-4 pm at Elephant's Deli Garden Room, located at 115 NW 22nd Ave. in Portland. The public is invited to celebrate and learn more about Shui Baby and Feng Shui Design, as well as enjoy henna painting, light refreshments and raffle prizes provided by local businesses including spas, wineries and children's book authors. Admission is Free and children are welcome. Sangill is available for media interviews, radio guest spots and individual consultations.
ABOUT AYMEY SANGILL, FOUNDER OF SHUI BABY
Aymey Sangill of Portland, OR has been practicing the art of Feng Shui for over 12 years. She is an integrative energetic healer with a background in counseling, holding an M.A. in Counseling Psychology from Lewis & Clark. In addition, she is a Certified Clinical Hypnotherapist, a Certified NLP Practitioner, and a Feng Shui Certified Practitioner of Interior Alignment. Sangill's professional memberships include being a Qualified Member of International Feng Shui Guild, Co-Director of the IFSG NW Chapter, and a Qualified Member of National Guild of Hypnotists.