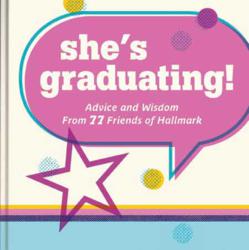 Kansas City, MO (PRWEB) May 13, 2013
One of life's greatest milestones for a young woman is her graduation. Whether she's graduating from high school or college, it is the perfect time to pass on the kind of advice that will stick with her forever. Hallmark today announces the winners in its recent book-creation contest, "She's Graduating."
Hopefuls were invited to submit an original piece of writing for three individual categories – I Wish I'd Known (What I Know Now), The Best Advice I Ever Got, and Between Us Girls. Contestants submitted their creations in June 2012.
The 82 winning submissions were compiled into a book, which is now for sale in Hallmark Gold Crown Stores nationwide just in time for the Graduation season. Winners each received $50 and two free books.
Hallmark judges looked for submissions with strong writing that would speak to many different female graduates and would inspire countless women. Entrants were also encouraged to check out the Hallmark Contest Facebook page for tips on this contest.
The 76 individual winners are from around the world, including 31 different U.S. states, Canada and Ireland. Four winners won twice and one winner won three times. Here are the winners in Hallmark's "She's Graduating" competition:
Linda Amstutz, Columbia, S.C.
Donna Anderson, Frisco, Texas
Rose Atieno, Waterloo, Iowa
Mary Lou Baldwin, Amsterdam, N.Y.
Joelle Beebe, Midland, Mich.
Marie Bennett, Coatesville, Pa.
Ashley Bercier, Bismarck, N.D.
Susan Burns, Dublin, Ireland
Jill Burns, Wardensville, W.V.
Jacquie Buser, Chickasha, Okla.
Larry Carter, Dallas, Texas
Rebecca Chamaa, San Diego, Calif.
Devanee Chapman, Boerne, Texas
Kitty Clements, Milton, Mass.
Judy Cotrone Ramirez, North Port, Fla.
Katherine Covey, Ninilchik, Alaska
Lisa Crisafi, Trinity, N.C.
Jason Cusati, Providence, R.I.
Michele Ivy Davis, Escondido, Calif.
Theresa Drinnon, Maryville, Tenn.
Nancy Dyer, Waltham, Mass.
Jill Eisnaugle, Texas City, Texas
Shani Fassbender, Coopersburg, Pa.
Kelly Fosnow, Tega Cay, S.C.
Ryan Fosnow, Tega Cay, S.C.
Angela Friend, North Las Vegas, Nev.
Peggy Garrett, Independence, Mo.
Kristen Giblin, Aberdeen, N.J.
Andrea Hamm, Springfield, Mo.
Barbara Hansen, Higlands Ranch, Colo.
Cami Hepler, Hickory, N.C.
Diane Hickey Hotaling, Virginia Beach, Va.
Rebecca Hill, Los Angeles, Calif.
Bob Hively, Circleville, Ohio
Georgia Hubley, Henderson, Nev.
Jolene Jennings, Unity, N.H.
Linda Kehler, Ontario, Canada
Denise Keller, Waukesha, Wisc.
Harvey Kivel, Tucson, Ariz.
Mikki Kramer, Aurora, Ill.
Madeleine Kuderick, Palm Harbor, Fla.
Rebecca Kyle, Dripping Springs, Texas
Paige Langley, Kingwood, Texas
Lisa Leshaw, Coram, N.Y.
Donna Lunny, Havertown, Pa.
Coleen McCrea Katz, Havertown, Pa.
Terri McMillan, Laurinburg, N.C.
Rebecca Meinders, Pecatonica, Ill.
Paula Mortimer, Chilton, Wisc.
Katie Mullins, Evansville, Ind.
Kimberly Murray, Livonia, Mich.
Patty Park, Stevenson Ranch, Calif.
Alina Peck, Fort Mill, S.C.
Annette Perez, West Palm Beach, Fla.
Ruby Pinkham, Sparks, Nev.
Darlene Plummer, Ft. Wright, Ky.
Cindy Ponko, Richfield, Wisc.
Connie Pullen, Eagle Creek, Ore.
Ana Rapin, Saint Louis. Mich.
Sierra Rendon, Cottonwood, Calif
Lindsay Rook, Tallahassee, Fla.
Christine Schultz, Kenosha, Wis.
Lisa Sims, Castro Valley, Calif.
Karen Starks, Barrington, R.I.
Kate Stover, Valencia, Pa.
Cindy Strine, Columbia, Mo.
Deana Taylor, Bath, Ill.
Terri Tiffany, Round Rock, Texas
Wanda Tincker, North Attleboro, Mass.
Michelle Trani, Riverside, N.J.
Rita Vetsch, Monticello, Minn.
Peggy Vincent, East Fallowfield, Pa.
Terra Wallace, Stockbridge, Ga.
Jill Washburn, Jackson, Wisc.
Donna Wondoloski, Old Bridge, N.J.
Chris Zastrow, Waukesha, Wisc.
New Competition Now Open
Hallmark's latest competition, "My Quirky Valentine," is currently accepting submissions. Consumers are invited to use original writing and photography to create a Valentine's Day Card that uses wacky, meme-style humor. For more information or to submit a design, visit Hallmarkcontests.com.
About Hallmark Cards, Inc.
Hallmark makes the world a more caring place by helping people express what's in their hearts and spend time together – a privilege few other companies in the world enjoy. Hallmark greeting cards and other products are found in more than 39,000 retail outlets in the United States, including the network of flagship Hallmark Gold Crown® stores. The brand also reaches people online at Hallmark.com and on television through Hallmark Hall of Fame original movies and cable's top-rated Hallmark Channel. Worldwide, Hallmark offers products in more than 30 languages available in 100 countries. This privately held company is based in Kansas City, Mo., and is led by the third generation of the founding Hall family. Visit http://corporate.hallmark.com for more details.