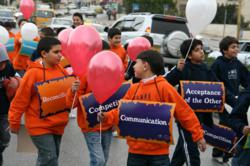 giving the Palestinian Christians the tools they need to get good jobs and remain in the Holy Land
Indianapolis, IN (PRWEB) May 15, 2013
Preserving a Christian Presence is a new blog site for everyone wishing to help the Franciscan Foundation for the Holy Land (FFHL) stem the exodus of Palestinian Christians from the Holy Land. Foundation Public Affairs Director Richard Sontag said the new site gives people around the world day-to-day insight into what's happening in the area.
"We've been working with the Franciscans for 14 years," Sontag said, "but this is the first time we have had the ability to connect with so many more people and make them aware that something must be done if we are going to keep Christians from leaving."
The blog will enable people who have made pilgrimages to the Holy Land to share their experiences and discuss with others – including people who are planning pilgrimages- the things they are doing or would like to do to help improve conditions confronting Christians, Sontag said.
"The Franciscans are doing great things through education and vocational training," he said. "They are giving the Palestinian Christians the tools they need to get good jobs and remain in the Holy Land. We want people to know about this so they can help them do it. The Preserving a Christian Presence blog will help us do the work we are here to do," he added.
The blog title expresses the FFHL mission, "Safeguarding the Christian Presence in the Holy Land." The site is found at http://www.ffhl.org.