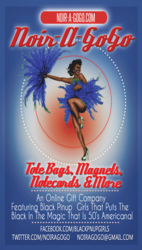 Trust me sugar, they've overcome!
BROOKLYN, NY (PRWEB) May 07, 2013
Novelist, poet, and freelance writer K.C. Washington has added small business owner to her repertoire. Launching the online gift store Noir A-Go Go, which offers Black pinup girl-themed gifts and accessories, she strives to put the black in the magic that is 50s Americana.
"All women want to be seen, as well as feel, sexy, witty, and wise. Other groups have images, gifts, and stationery that does that for them. Black women not so much and that's where Noir A-Go Go comes in," says Owner/Designer Washington.
Though the store primarily operates from its ecommerce site http://www.shop.noir-a-gogo.com, Washington makes a point of setting up a booth at various markets and fairs in and around Brooklyn so potential customers can get a feel for the products, hear the story of the company's inception and buy from her directly. Noir A-Go Go is particularly popular with the Brooklyn Book Festival and the Harlem Book Fair crowd.
"We don't currently sell books or offer publishing materials, although we do giveaway a bookmark to anyone who joins our mailing list and we are considering putting together a coffee table book on Black pinup girls," says Washington, "maybe it's the historical aspect of our products, but whatever the reason, we do very well at book fairs."
The company's catalog runs the gamut from tote bags to postcards all of which feature one of its signature Black pinup girls like Charlie, their main pinup who's tagline is "Trust Me Sugar, I've Overcome" and Belle with her "I Like My Men Shaken & Stirred."
"Brooklyn is a hotbed of DIY shops and vintage inspired, American Made goods, and with our goal to marry beautiful , empowering images with cheeky yet uplifting sayings printed on recycled paper," says Washington. "we fit right in!"
About Owner and Designer K.C. Washington
K.C. launched Noir A-Go Go with the idea that something was missing within the American pinup girl genre, namely women of color. So she decided to put what she calls a sepia spin on the beloved genre and Noir A-Go Go was born. Convinced that the world is more than familiar with the image of African Americans fighting for their rights during the Civil Rights era, she wants to show another image from that time---one of glamour and wit. A Mellon Fellow and a novelist with a background in journalism and literary and historical fiction, K.C. has raised the curtain on a world of beautiful, empowered, stylish women (and a few men) and placed them on everything from magnets and tee shirts to tote bags and greeting cards, with more to come as she expands.