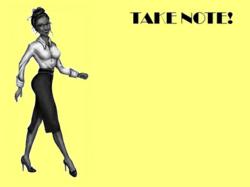 Who Doesn't Love A Post It?
BROOKLYN, NY (PRWEB) May 28, 2013
Online gift store Noir A-Go Go releases their first set of Black pinup girl-themed Post Its. They come in the traditional yellow, 4x3 inches with 50 sheets per pack, but there is nothing ordinary or traditional about them.
"This is one of my favorite products. After all, who doesn't love a Post It? And a Post It with a sexy, Black pinup girl like Izzy it's a no brainer," says owner/designer K.C. Washington.
Noir A-Go Go, perhaps the only Black pinup girl-themed gift store in the world, is becoming known for its sexy, nontraditional gifts and accessories.
"All women want to be seen, as well as feel, sexy, witty, and wise. Other groups have images, gifts and stationery that does that for them. Black women not so much and that's where Noir A-Go Go comes in."
The company's catalog runs the gamut from tote bags to postcards all of which feature one of its signature Black pinup girls like Charlie, their main pinup who's tagline is "Trust Me Sugar, I've Overcome" and Belle with her "I Like My Men Shaken & Stirred."
"Our goal is to marry beautiful, empowering images with cheeky yet uplifting sayings," says Washington. "We hope to one day be the Black version of Anne Taintor."
The customers of the Harlem Book Fair, Brooklyn Book Fair, Afro Punk Festival, and several NYC gift stores, seem to agree that Noir A-Go Go is well on the way to accomplishing its goal.
About Owner and Designer K.C. Washington
K.C. launched Noir A-Go Go in January 2011, with the idea that something was missing within the American pinup girl genre, namely women of color. So she decided to put what she calls a sepia spin on the beloved genre and Noir A-Go Go was born. Convinced that the world is more than familiar with the image of African Americans fighting for their rights during the Civil Rights era, she wants to show another image from that time---one of glamor and wit. A Mellon Fellow and a novelist with a background in journalism and literary and historical fiction, K.C. has raised the curtain on a world of beautiful, empowered, stylish women (and a few men) and placed them on everything from magnets and tee shirts to tote bags and greeting cards, with more to come as she expands.