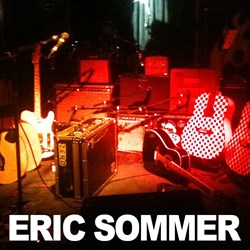 The energy, the free form approach, perfect timing and total control of the cyclone... Amazing stuff!!- Dick Smithers, City Jam Blog
Philadelphia, PA (PRWEB) May 28, 2013
Eric Sommer is on the road and coming to the Mid Atlantic States. This first week of summer, Mid Atlantic music fans are in for a real treat.
Pop Roots Americana artist Eric Sommer is one of the true masters of live acoustic guitar playing that truly scrambles the brain. Slide, lap-slap, live "on-the-fly" tuning, blazing finger-style, double-stop acrobatics and an array of songs and soundscapes make this artist a perfect lead-off to the summer season - in the city or on the shore.
Coming off a series of shows in Arkansas, Boston and The Carolinas, Mr. Sommer will be primed and - by all accounts - ready to dig in for a series of Philadelphia and Central New Jersey shows that will make a lot of guitar players very happy and surely boost his already stellar reputation.
May 31 - Bus Stop Music Cafe, Pitman, NJ
June 1 - Baines, Scottsville, VA
June 2 - John & Peters, New Hope, PA
June 3 - Jolly's, Philadelphia
Mr. Sommers' live show is hard to describe - 8 guitars, 6 amps of various shapes and sizes, a pedal board or two for the visual set, and for the ears, it's a study in sonic feedback, bending and layered overtones... it other words, it's something to see to believe.
Eric started his musical career in the Boston area and has been a regular player on many national tours and showcases. His influences are as diverse as Charlie Parker, Townes Van Zandt, Steve Earle, Steve Howe, The Beatles and The Ramones. Mr. Sommer's current project with power trio "The Solar Flares" shake up Chet Atkins and David Bromberg influences with those of ZZ Top and Elvis Costello - a remarkable mix.
With open tunings, slide guitar, lap-slap tone guitar and a remarkably aggressive fingering style approach, watching Eric Sommer will make you jump out of your seat and holler for joy! There are very few players who have maintained this authentic American style of guitar and Eric Sommer is one of the very best.
Amen.
____________________________________
For Music Samples please visit Eric Sommer online for additional schedules or contact him at eric(at)ericsommer(dot)com or call 202-255-1995. Additionally, you can find Eric Sommer on Facebook, too. RAINY DAY KARMA is also available on CDBaby, iTunes and Amazon.
Eric Sommer is represented by Clyde is Thinking, and PR programs are managed thru MTG/NY; For more information, promo/appearance requests or to set up an interview, please contact Tom Monihan 202-255-1995.