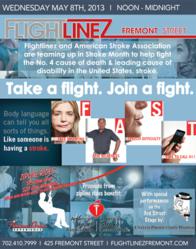 Las Vegas, NV (PRWEB) May 07, 2013
Flightlinez and the Fremont Street Experience invite supporters to zipline down Fremont Street and assist in raising funds in an effort to support American Heart Association.
Volunteers from American Heart Association will be on site to provide more information about the organization, their upcoming activities and events. There will be stroke survivors and information on site.
Who:
Flightlinez Las Vegas zipline attraction, Fremont Street Experience, American Heart Association
What:
Flightlinez and the Fremont Street Experience will donate all net proceeds from zipline rides on Wednesday May 8, 2013 from noon to midnight to American Heart Association.
American Heart Association
The American Heart Association in Las Vegas is hard at work to make an impact on your life by empowering you and your loved ones to live healthier lives and enjoy more peace of mind about heart disease and stroke, our No. 1 and No. 4 killers.
Flightlinez is committed to serving the Las Vegas community by hosting charitable fundraisers throughout the year. The monthly events have been a great way to put the "fun" back in fundraising for so many charities during tough economic years. In late 2010, Flightlinez and Fremont Street Experience began hosting these monthly events and have donated more than $275,000 to various charities.
Location:
425 Fremont Street, Suite 160
Las Vegas, NV 89101
Ticket Office is located next to Walgreens off of 4th Street.
Cost:
Noon until 6 p.m. Flightlinez Zipline rides are $15.
6 p.m. until midnight Flightlinez Zipline rides are $20.
Additional Information:
About Flightlinez:
Flightlinez owns and operates the zipline ride attraction located at the Fremont Street Experience and continuously puts forth fundraising efforts to support charities and worthwhile causes in Las Vegas.
In October 2010, Flightlinez Las Vegas opened for the first time to host the 1st Annual Broom Races – Flights for Cancer. Now going on three years, Flightlinez Las Vegas has become an attraction everyone visits when they are in town.
About American Heart Association
Nearly 2,200 Americans die of cardiovascular diseases each day — one person every 39 seconds. Cardiovascular diseases claim more lives each year than cancer, chronic lower respiratory diseases and accidents combined. On average, every 40 seconds someone in the United States has a stroke. Research is a major weapon in our fight against the No. 1 and No. 4 killers in our nation - heart disease and stroke.
The American Heart Association works every minute of every day to advance groundbreaking medical research, spread lifesaving knowledge and reach out to people of all ages about cardiovascular disease and stroke.
Since 1949, the American Heart Association has spent more than $3.3 billion on research to increase our knowledge about cardiovascular diseases and stroke. From the development of CPR to open heart surgery, we have been a part of many important research milestones. They have funded seven Nobel Prize winners, helped link dietary fat with cholesterol, funded the creation of the first pacemaker and supported early research for the arterial stent. They are second only to the federal government in funding cardiovascular and stroke research; however, each year we need more resources to attract and encourage promising scientists to careers in cardiovascular and stroke programs, fund high-quality research projects and originate new programs to meet the needs of the research community.
Last year alone, the Western States Affiliate funded millions in research to fight heart disease and stroke. We're creating healthier communities to ensure stronger, longer lives for you and your loved ones. Learn more about American Heart Association funded research milestones and find out what research grants have been awarded in your state.
For more information on charity events please visit Flightlinez or call 702-410-7999.
For More Information on American Heart Association
visit: The American Heart Association
Contact: Geena Mattox
geena[dot]mattox[at]heart[dot]org
If you plan on sending a camera, please contact Brina Marcus as soon as possible for security clearance brina(at)flightlinez(dot)com or 702-664-4256.
For media information, please contact:
Brina Marcus
Flightlinez
702.664.4256
brina[at]flightlinez[dot]com