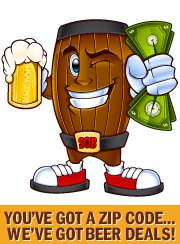 It's a cultural shift, really. If I say 'mobile web site' you might go 'huh?' If I say mobile application, you instantly understand
Houston, TX (PRWEB) May 20, 2013
SaveOnBrew.Com, the world's only beer price-search engine, announced the availability of mobile applications for the Apple and Droid platforms.
"We've actually had a mobile version of our web site available for quite some time," explained Mark Davidson, site founder. "It's really pretty good. Put in your zip code, find advertised beer deals anywhere in the country."
Even though the mobile web site was available, the Texas-based company kept getting requests for a mobile application.
"It's a cultural shift, really. If I say 'mobile web site' you might go 'huh?' If I say 'mobile application', you instantly understand."
Before SaveOnBrew published the applications, they added a few new enhancements. "We worked on the social aspects, making it easier to share deals on Facebook and Twitter. We also added in some visual cues so that people understand how many deals are in their area," says Davidson.
The free applications are now available at the Apple store as well as the Google marketplace.
# # #
About SaveOnBrew.Com: Founded in 2010 to help thirsty beer drinkers across the United States find the lowest advertised prices for one of the world's most popular beverages.