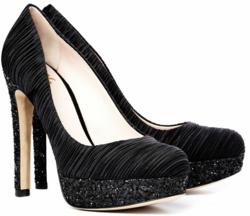 "The Rebonz luxury store is truly beautifully engaging and De Siena Shoes is proud to be a part of it."
Singapore, Singapore (PRWEB) May 01, 2013
De Siena Shoes are now being offered at Rebonz.com and the women's luxury shoes can be found on Rebonz luxury oriented lifestyle website from May 1st, 2013. De Siena Shoes designs and distributes only hand-made luxury women's heels of the highest quality and integrity from Italy.
De Siena Shoes is a relatively new designer of women's high-heels, exclusively hand-made in Italy with the finest materials available. The company just recently began marketing in Asian markets and has seen great customer engagements, such as building 23,500 fans on their Asian Facebook site in just the first months of 2013.
"We're very excited to have Rebonz join De Siena Shoes as one of our key partners in the Asian market," said Mariah Rahman, Marketing Director for De Siena Shoes. "The Rebonz luxury store is truly beautifully engaging and De Siena Shoes is proud to be a part of it."
About De Siena Shoes
De Siena Shoes are the latest hand-made footwear sensation to come from Italy that once viewed, instantaneously becomes a classic. The shoes are conceived for a sensual yet sophisticated look with a touch of romanticism. Founded by Francesco Lorenzi, each pair is hand-made with care, beauty and comfort in mind. Inspired by the town of Siena in Italy, known for it's passion for beautiful landscapes, works of art and strong emotions, putting on a pair of De Siena Shoes will make one feel the spirit and soul of Tuscany. Discover De Siena today.
About Rebonz
Reebonz is the most trusted online brand for buying and selling the widest variety of designer luxury products. Modelled around the concept of 'accessible luxury,' members may shop online or on mobile applications from a range of women's and men's high-quality designer products. Reebonz hopes to bring their members a unique shopping experience that is full of discovery and pleasure. Reebonz focus is to provide a well-edited collection of handbags, accessories, shoes, timepieces and jewellery from the best brand names in the world — combined with impeccable service.
Discover De Siena Shoes at Reebonz today.